Write Features and Benefits For Landing Pages That Gets Results
Landing Pages won't be totally effective without the features and compelling benefits of the offer. Simply writing about your offer without explaining to prospects what's in it for them won't get your landing page favorable results.
Free Download: Landing Page Copywriting Formulas Template
Even a quick offer posted on social media won't drive any conversion at all if people don't get to understand its value. Why should they buy your product or service? How can your offer help them? Why should they choose your brand?
The landing page design could positively attract the users' eyes; however, it's actually the unique proposition that will drive the prospects to hit that Call-To-Action (CTA) button.
This is the reason why it is important to list out the product or service's attributes and benefits to convince the prospects of the advantages if they get to hit the CTA button on your landing page, may it be a checkout button or a subscribe to email list button.
Yet, while you can immediately write the offer's features and benefits on the landing page you created, deciding which ones are the best and picking the right words to put out there, can be a daunting task.
In addition, merely listing the offer's advantages is just not enough if you want to have the best landing page. What you put out there should be compelling enough to evoke interest, attention, and action.
If you are a novice in this area, fear could creep in between the creation and promotion stages which could sabotage the success of your landing page. But having a powerful system to follow can drive out fear and can help you present your offer effectively.
Thus, today, we will share with you the secret formula on how to write your offer's features and benefits in a way that drives results. We will also list some examples to further help you in writing a powerful sales pitch featuring the benefits of your offer.
Before we dive deeper though, let us first discuss the difference between features and benefits so you can successfully formulate a powerful sales message to get a hold of the emotions of your potential customer.
Features and Benefits, while two distinct words are often misunderstood, knowing their differences will help you get your offer messaging right.
Additional helpful articles for building high-converting landing pages for you. We do use and recommend HubSpot.
Features vs Benefits: The Difference
In a nutshell, a feature is something that is part of your product or service, whereas a benefit is the positive effect it will have on your target customers.
Let's take a clearer view through your favorite pair of jeans.
Your favorite pair of jeans features may include the specific number of threads used, the length and size, and the type of material used for the buttons.
The reasons why you love your favorite jeans could be because the material is soft and comfy, it fits you well and it looks good either with sneakers or heels. Your reasons are the benefits.
In other words, features are the facts and figures about your offer, while benefits talk about its impact on your prospects.
The Secret Formula to Writing Powerful Features and Benefits for Landing Pages
Now that you know the difference between features and benefits, it's time to take your knowledge and put it into action.
If you've been around the world of marketing, you have probably heard about the famous maxim, "Sell the benefits and not the features".
While the adage is indeed right, we can't just simply ignore the features as proofs behind the promise. This is why we put so much weight on teaching you how to write features and benefits in ways that truly drive results.
Let's talk about the secret formula which is using the table technique of feature, problem, and benefit.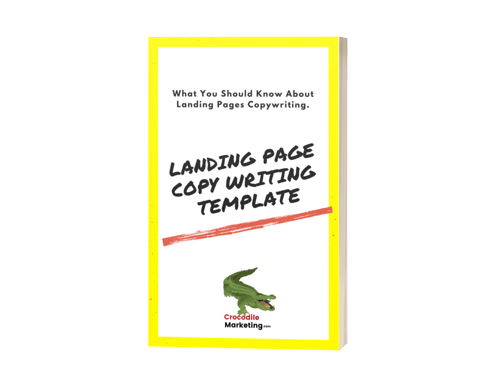 Ready to write your own landing page? Download Crocodile Marketing's free
Landing Page Copywriting Formulas template to get started.
Feature-Problem-Benefit Formula
The easiest, fastest, and smartest way to formulate an offer proposition is to use the Feature-Problem-Benefit Table Format.
This formula will allow you to easily go over and compare features versus benefits. The technique will help you identify the best features of your offer, associate the right benefit, and formulate the most captivating sales pitch benefits.
Step 1: You start with listing first, the features of the offer.
Step 2: For each feature, you then write out the particular problem it will solve for the customer.
Step 3: Once you have determined the problems, it's time to write your promise on how you will solve the problems.
Step 4: Rewrite your promise into benefits as solutions.
From there, you can then formulate a compelling features-benefits statement to add to your landing page.
To give you a clearer view, here's how it looks: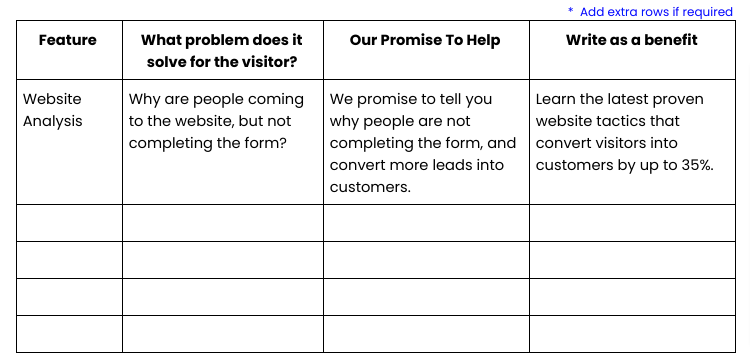 Powerful Features vs Benefits Examples
Here are 20 examples of features versus benefits matrix along with compelling benefit statements that you use as a guide in creating your own landing page that truly converts.
Product/
Service

Feature

Problem

Promise

Benefit Statement

Computer

500 GB hard drive

Don't have enough storage for my games.

Our promise is to ensure you have enough space for all your files to access quickly.

With a 500 GB hard drive, you can store all your files on a single computer without having to worry about performance issues.

Financial reporting software

One-click reports.

Need to export the financial data to a spreadsheet to review my results.

We promise to save you time by using one report.

Access all the financial information you need with just one click of your mouse.

Custom tools

I am paying for features I do not use and the CRM is very confusing.

Our promise to only charge you for features you use.

Only install the tools you really need. Don't waste your money on programs that don't help you increase your ROI.

Fitness video

A complete list of cardio exercises that takes less than five minutes to perform.

I don't have time to do all the exercises to lose fat.

We promise to give you fun exercises to reduce the weight for your body shape so you can spend less time in the gym.

Easy exercises that will melt away abdominal fat in less than five minutes a day, making you look great for your big day.

Mobile phone

Battery pack with 10,000 mAh capacity.

My phone keeps going flat and I recharge my phone during the day.

We promise to increase phone's battery life by 80%

Increase your phone's battery life by up to 80% so you can enjoy watching videos when traveling without having to worry about your battery running out.

Hosting service

Hosting software

My website runs slowly when there are high-volume web visitors.

Our promise is your website will not run slowly when there is an increase in web visitors.

You can be certain that your website won't bog down when site visits increase.

Freelancer portal

Over 1,000 freelancers are available.

I cannot find any casual work for small jobs.

Our promise is to give you access to extensive professionals to save time.

Get things done quickly by tapping into our extensive pool of workforce.

Can identify traffic from five reliable sources.

I don't know how people are finding my website.

Our promise is to remove the guesswork and know how the people come to your website so that you can track costs.

Remove the guesswork. Know exactly which mediums are generating ROI with just a click of the button.

Internet service

15 megabyte-per-second download speed.

My internet is slow when watching videos.

Our promise is to give you fast internet so you do not need to wait for downloads.

Spend less time waiting for videos to download and more time enjoying them.

Online training

We offer over 200 different online courses.

I do not have time to attend the training courses during the week.

We promise to help to advance your career with the wide range of online training that meets your needs.

Step up your career by accessing a wide range of online training courses that suit your needs.

Personal trainer

Secret to creating muscle definition.

How do I get into shape faster?

Our promise is to get you the perfect abs with a few sessions.

I will help you get those perfect abs you have been dreaming of. With just a few sessions with me, girls will be swooning at your door.

Copywriting

Search engine friendly content.

Why is my content not ranking in search engines?

Our promise is to give you SEO-friendly content, get found and get you more customers.

Get found by your target customers and avoid unnecessary fees through SEO-friendly copy.

Social Media Manager

An expert in social media management.

How do I get better results for my social media accounts?

We promise to increase your social media brand by using our effective and proven blueprint.

Skyrocket your brand's revenue using my proven and effective blueprint for managing social media accounts.

Air Conditioner

Air conditioners installed throughout.

Living in a location where it is hot in the summer months.

Our promise is to cool your home so you can relax and enjoy it with family and friends during the hot summer.

Relax with family and friends during hot summer days at the comfort of your fully air-conditioned home.

Proofreading services

Available 24/7

I need to get my presentation review and check before my meeting tomorrow.

We promise that no matter what time it is, we will be there to proofread your presentation 24/7.

No matter what time it is, we're here at the beckon of your call.

Life coach

Brilliant guidance to help you achieve both short- and long-term goals.

I feel like my life is out of control and the problems are too big for me.

My promise is to help you be the best version of yourself every day to achieve your full potential without being weighted down.

Be the best version of yourself every day and achieve your full potential without feeling weighed down by life's hardships.

Web design service

Responsive website design.

My website looks ugly and does not work for me.

Our promise is to showcase your services in the best possible light using responsive websites.

Amaze your prospects through a responsive website that showcases your services in the best possible light.

Recruitment service

Job-candidate matching service.

I cannot find the right person for the new role and it is taking too long.

Our promise is to find the right person to take your business to the next level without wasting time and money.

Find the right people to take your business to the next level without wasting time, energy, and money.

Landing Page Builder

Drag and drop software builder

Creating my landing pages is taking too long.

Our promise is to help you create landing pages without having to know any programming languages.

Create a landing page without having to know any programming languages or knowing a lot about graphic designing.

Copywriting services

Copywriting programs to suit all budgets.

I don't know how to write the word to explain my services for my new business.

Our promise is to help startups and established brands about to embark on a major marketing campaign to have a copywriting solution for your budget.

Whether you are a startup or an established brand about to embark on a major marketing campaign, we have the copywriting solution that's just right for your needs.
Conclusion
Determining a product or service attributes and advantages can be confusing, but following a proven formula can ease the burden of having to write the benefit statements that get results.