How To Select The Right Image for Your Landing Page Using HubSpot
Have you experienced visiting a website for the first time and you liked their background image, so you decided to scroll down to look for more? Or have you experienced receiving a marketing email with an eye-catching image on the headline that made you read the entire message just because of a single image?
Free Download: Landing Page Copywriting Formulas Template
If you have, then, we're all in the same boat. Aside from the headline, an image is a powerful magnet that attracts people's attention.
The same goes for high conversion landing pages.
The first thing visitors will see on your landing page are the images and the colors you use in them. They are important factors in marketing that you should never neglect.
That is why, it is important to choose them carefully as they need to catch your prospects' eyes and appeal to them, especially the images. In this lesson, we will discuss how you are going to select the right images, where to find them, and how to add them to your landing pages.
Let's dive right in.
Choosing the Right Images For Your Landing Page
Images are more than just placeholders to make a page look nice. They play a significant role in persuading prospects and customers to take the next step Images are the best way to convey messages, to express feelings. Images reinforce understanding, clarify concepts, facilitate the assimilation of new knowledge, and identify the erroneous concepts quickly.
But how do we select the right image for our landing page? How do we find those images that will improve the efficacy of our landing pages conversion? You might think of using the images of your products or services, choosing the most eye-catching ones, or simply choosing something that is relevant to your offer.
While those can be part of the overall strategy, yet, there is one element that should be our main basis when it comes to choosing the right images for our landing pages. And that is choosing images that will affect people on an emotional level.
Why?
Because our decision-making process is almost entirely emotional. Everything we buy has an emotional reason behind it. Since images evoke certain emotions in us, we can use them to make people feel a certain way and drive them towards an action.
So, how do you choose images that will tap the emotions of your prospects and eventually lead them to take action on your offer? There are four (4) ways you can consider when choosing the right image for your landing page.
1. Choose a Landing Page Hero Image to direct attention
Capitalize on placement by using your hero image to direct the prospect's attention towards the action you want them to take. A Hero Image is the first, main photo or graphics that you see at the top of a web page or landing page.
The goal of the Hero Image is to instantly draw visitors in and show them what the page is all about.
You can have your Hero Image "look" at the Call-To-Action (CTA) button or you can have a Hero Image that looks like it is surrounding the CTA button. You can use contrasting colors between your Hero Image and your texts to make your CTA button the focal point of your page.
2. Choose an image that will tell about your solution
No matter what you are features and benefits, what people really care about is not the offer, but why they should take advantage of your offer.
Thus, look for an image that shows either the solution, someone using the solution, an illustration of the solution, or a video on how to use the solution.
3. Use the "Current Feeling" technique
Choose an image that shows the current situation of the prospect as a way to remind him/her of the current problem and the importance of taking immediate action.
4. Use the "Desired Outcome" technique
Instead of showing an image of your solution or your product, you can instead use images that show prospects the outcome of the purchase.
These four ways are proven and tested image strategies that you can use when creating your landing page.
Where To Find The Right Images For Your Landing Page
So where do you find Hero Images and other images for your landing pages? Well, not everyone has the ability to take their own photos or design infographics.
Luckily, there are tons of websites that offer FREE or inexpensive stock photos to slice and dice your own hero image and other required images for your own landing page.
The best place to start with is Canva.
Canva is a graphic design platform that contains stock images that you can use for your landing page. It offers FREE and PAID images. If you want to have access to unique premium images, you can go for a paid subscription which you can do monthly or yearly.
The good news is, they offer a Canva Pro Free Trial for 30 days. The good thing about upgrading to Canva Pro is you get to have access to its Resize and Remove Background features.
So, if you want to use a picture of a person but want to remove its background, you can do that immediately with Canva Pro. For those who do not have an idea what Canva is, let us take a quick tour.
To access Canva, you just have to go to their website by typing www.canva.com on your web browser.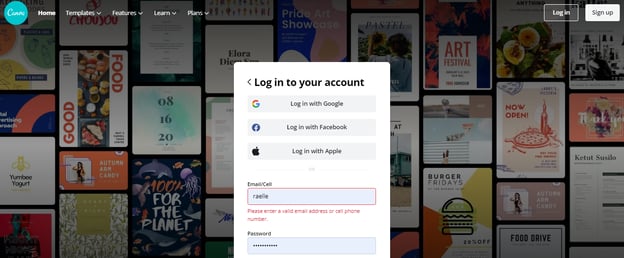 You will immediately be directed to its home page where you will be asked to sign up if you are new to it. You can sign up through Your Google, Facebook, or Apple account.
Once you have created your account and logged in, you will be directed to your own dashboard.

Unfortunately, there is no option to directly download an image from Canva. You have to create a design first, then, choose a template or decide a custom size.
When you have chosen size or a template, you can edit it and put your desired images. To choose images, you just have to go to photos, then drag the images that you like.
To choose the most relevant photos for your landing page, you just have to use the search bar after clicking "Photos" on the left-hand corner. Then, from there, you can select the photo you think is high-converting.
You can reposition the photo and show the part or parts you think will speak your message.
To download the image, just go to the upper right-hand corner, then, click the arrow-down symbol and choose your desired format for the image, either in PNG or JPG.
That is how you get your image.
You can definitely do many things with Canva. But enough of that for now as I will be teaching you a different route on how you can find the best hero image for your landing page. Though we will still be using Canva, we will access it through the Hubspot platform.
The best thing about Hubspot is that it partners with the best tools in the marketing and advertising industry, making people's life easier.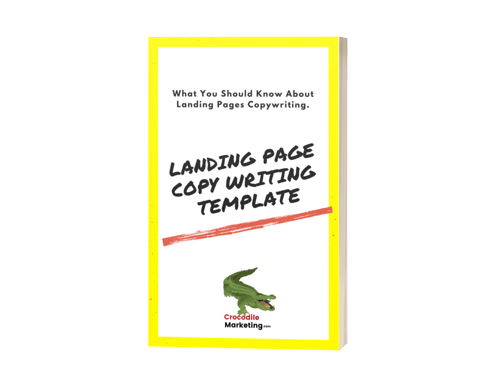 Ready to write your own landing page? Download Crocodile Marketing's free
Landing Page Copywriting Formulas template to get started.
How To Add An Image To Your Landing Page
Now, to add your hero image to your landing page, let us head back to Hubspot.
Step 1
Log in to your Hubspot account.
Step 2
Once logged in, go to "Marketing".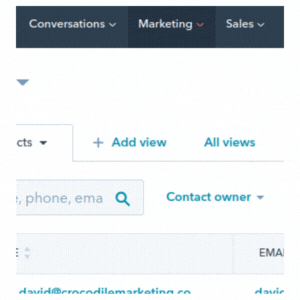 Step 3
Come down to "Website" then choose "Landing Pages".
Step 4
Click the "Create" button on the upper-right hand corner. This is if you are creating a new page.
If you have already created one, you can simply edit it, then, click on the image module to add images. For this example, let us start anew and create a new page.
Step 5
Choose a Theme.
It doesn't really matter what theme you are going to choose. You can start with any, as you can just edit it any time and follow the layout we have created in our earlier lessons.
Step 6
Choose the Template for Landing Page and name it to something easy for you to recognize to avoid confusion at a later time when you already have a lot of landing pages created.
Step 7
Click the "Create page" button after choosing a name.
Step 8
In order to change your hero image or the background, you just have to go to "Section" located on top of the interactive page editor.
Step 9
Choose "Style section" from the options after clicking the Section label.
Step 10
Click "Background" from the left-hand side.
Step 11
Choose "Image" since we will be adding our own hero image.
Step 12
Click the "Browse Images". A little slide will then come out from the side for you to insert your preferred image.
Step 13
Go to "Design with Canva" at the bottom part of that slide to create your own image given that you have not created your own image yet.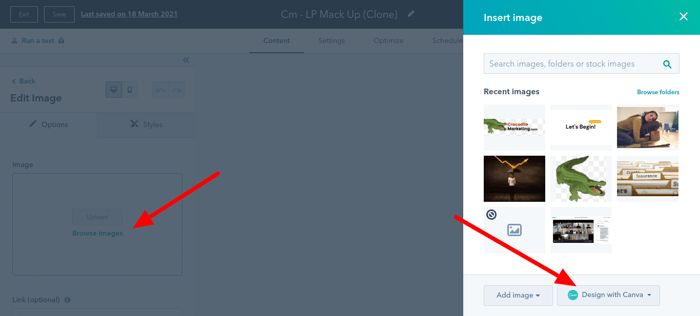 This feature allows you to easily create and insert images without having to leave Hubspot.
Step 14
Select your preferred size.
Just hover your mouse on the options and select the size you think suits best to your landing page. You can go ahead and choose the size for Presentation.
Once a size is selected, it will immediately load up the Canva tool inside Hubspot.
Step 15
Once inside Canva, go to "Photos" to select your image.
Use the search box to look for the most appropriate hero image for your landing page.
Drag and drop your chosen image to the white space. You can somehow adjust or alter the image by repositioning it.
Step 16
Click the "Save" button on the upper-right portion for it to be automatically added to Hubspot.
Step 17
Click on the image that is already loaded inside Hubspot.
Step 18
Lastly, click "Back" on the left-hand corner for it to change the background image at the top of your landing page.
That's how the Canva tool works inside the Hubspot platform.
Alternatively, if you have already created and downloaded your hero image from Canva, you can choose to upload it to Hubspot. Once you have decided to add images, you just look on the left-side of the content editor and look for "Image", then, click the "Upload" button.
Conclusion
Whether you create the image through accessing Canva on Hubspot or uploading the image, it doesn't matter. You will still be able to have your chosen hero image.
So, that's it! It's actually easy. By preparing the layout, then, adding relevant images, you will definitely have a landing page that truly converts.