Write Faster Using These Amazing Landing Page Headline Formulas
The headline is the first thing your visitors will see on your landing page. You just make the right impression, you entice them to stay. You fail to capture their attention, you drive them away.
While all the other elements on your landing page are essential to achieve that coveted conversion rate, the real conversion actually starts on your headline.
Free Download: Landing Page Copywriting Formulas Template
Your headline may not instantly gain you that conversion unless they click on your CTA text, but your headline plays a crucial role in persuading them to stay on your landing page to take further action. The more convincing your headline, the more click-through rates.
But how to write a convincing headline just perfect to grab the attention of your visitors the moment they land on your landing page?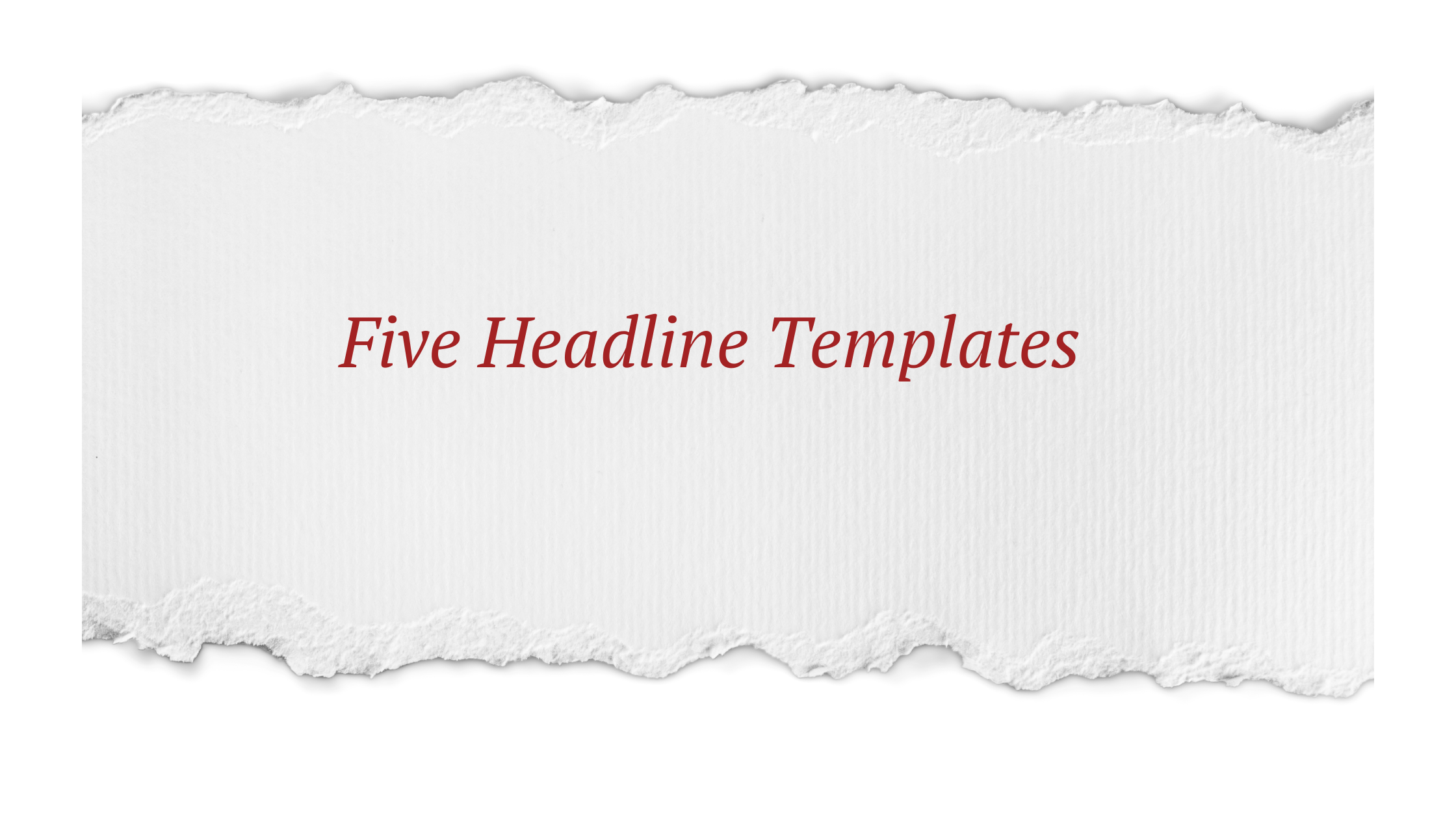 In this blog, we will tell you the secret formulas on how to write the perfect headlines for your landing pages that would help you drive more leads and eventually, sales.
We will also share with you 5 headline templates that you can use for your own landing page.
And they aren't anything misleading or merely clickbait. They're proven and tested templates used by successful copywriters and marketers around the world.
2 Secret Formulas for Writing The Perfect Landing Page Headline
What types of headlines make great impressions that will help your landing pages convert?
We can tell you information here like clear, direct to the point and relevant to the ad, etc. However, those won't really get you to the bottom on how to write a headline that would drive your visitors to read more and do something on your landing page.
While those are correct - you won't really be able to know the secret of writing the headline at a deeper and concise level.
Today, we will share with you the two secret formulas that successful copywriters have been using in coming up with a good landing page headline for their clients, plus a bonus one.
The first thing you have to know is what to write on your headline and the second thing is how to make it powerfully irresistible.
1. Focus on the main benefit
To be able to come up with the perfect headline, you first need to know what to write. This is where you think about the benefits of your offer.
You can throw many types of headlines relevant to your offer, but if you want to make it more effective, then, follow this formula - focus on the main benefit.
Take a look at the benefits of your offer and then take the main benefit from it. What is the big idea? What is the key benefit that your visitors will get after completing your landing page? You use that as your keywords on your headline.
Now, you got the main idea for your landing page headlines. How to write it in a way that will make it powerfully irresistible? Let's unveil the second secret formula.
2. Write Emotional Headlines
We are not really saying you get emotional on your headline and narrate all your heartaches. What we want to tell you is to tap on the
of your target consumers - through your headline.
Tapping into the emotion of your target customers is the most powerful way to write your headlines on your landing page. Remember to use conversational copy.
In writing an emotional headline, assess your target customers' pain points and determine how your offer can help them best. Then, talk about those things in your headline.
Go deeper into the truth of your offer and your customer's concerns to discover the most striking hook that you can incorporate into your headline. Bring to their attention what your customers are already thinking about. Enter the conversation already taking place in your prospect's mind as Robert Collier puts it.
How would you be able to discover that powerful hook you can include on your landing page headline? By creating a questionnaire to be filled out or by directly quizzing the person involved in the offer.
For your own business, you can tackle the answers with someone on your team to have that "Aha!" moment that might be useful to your headline.
While going over the answers, always search for the "human interest story" in between the given data. Find suitable power words that could help you explain the main benefit of your offer, yet, at the same time tugging at the emotions of your prospects.
Here's a great emotional headline from the master of copy, John Carlton.
Amazing Secret Discovered By One-Legged Golfer Adds 50 Yards To Your Drives, Eliminates Hooks and Slices… And Can Slash Up To 10 Strokes From Your Game Almost Overnight!
According to John, he was quizzing his client, probing him for answers, and taking notes when the client mentioned his inspiration for his new golf product which was a one-legged man who hit a dead-solid perfect drive. It was then time he came up with the powerful headline above.
Now, this is not merely hype, but a headline that is really based on truth which you can't get without going deeper.
What makes the headline truly effective is that it pulls the reader's emotion by bringing the human side to the story.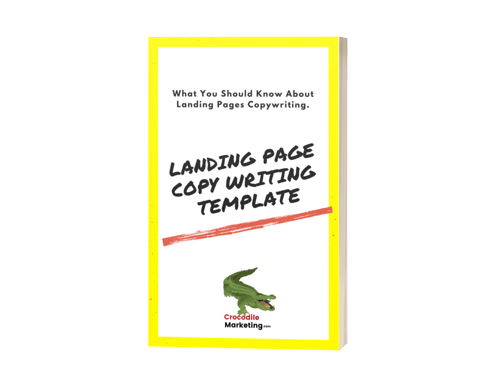 Ready to write your own landing page? Download Crocodile Marketing's free
Landing Page Copywriting Formulas template to get started.
Backup Your Headline
You know the headline should be eye-catching and emotional, what's next? Here's what you shouldn't miss: The supporting text to back up your headline.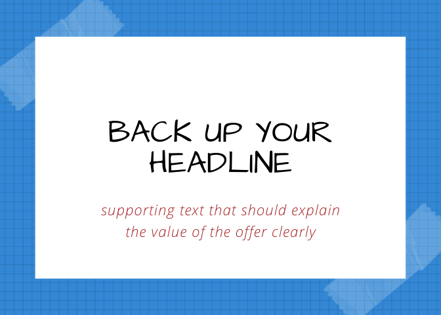 Yes, you read that right! Following your headline should be a supporting text that would back up your offer to give them a reason to take the next step.
When we write a headline for a landing page, it needs to have supporting text that should explain the value of the offer clearly, simply, and in a compelling way. Typically, a supporting text is a subhead that is rewording the main benefit statement to entice the visitor to take further action.
Many owners are able to write a compelling claim, but fail to back up their headline. It is one of the mistakes you should not undertake. Remember that if you cannot support your claim, you won't get that desired conversion or sale.
The idea to get that desired conversion is to connect your headline and your supporting text together.
In your headline, you tell a short, striking story. Then, in your supporting text, you complete the story.
Always keep in mind to support your headline. Complete the hook always. If you don't, your prospects will be mad at you for luring them in without satisfying their curiosity.
If you really want to write a striking hook, you research the target market the product or service is selling to. Understand deeper your product or service. What major benefit does it have?
If you want to come up with a hook with power words, then, go over some magazines. Look how their headlines are created. You might see powerful words that you can use in your own headline.
To back up your landing page further consider checking out these articles.
5 Amazing Headline Templates To Ace Your Landing Page
You have already seen the secret formulas in writing a perfect headline for your landing page. It's time to put your learnings into action and create your own headline.
Here are 5 amazing headline templates you can start with. No need to drain your brain for ideas to come up with a striking one.
You just have to stick to any of these templates, fill the gaps and you're good to go.
Template #1:
If You've Got _________, I Guarantee __________.
Headline Example: If You've Got 20 Minutes, I Guarantee To Show You How To Convert More Customers By 35%.
Here's how you do it...
If You've Got (and insert the requirement of your prospect), I Guarantee (then, the main benefit your product or service offers).
Template #2:
Who else wants __________?
Headling Example: Who Else Wants a Free Copy of My Marketing Machine?
This headline is just so brilliant as it implies that a lot of people are getting the same results promised in the headline. The prospect would definitely want to get in to have what everyone else is having.
Here's how you do it...
Who Else Wants (then insert the big benefit of your product or service).
Template #3:
How to __________
Headling Example: How To Write Compelling Hooks Even If You Suck At Writing
This how-to headling template might be too familiar to you as it has been widely used not only in landing page headlines but even in articles and books.
This is so easy to do. You just have to insert the main benefit along with the feelings of your prospects.
Template #4:
How I __________
Headline Example: How I Manage To Earn from Zero To Seven Digits a Month Through Facebook
People would definitely love this headline as it is a story. People just love stories. That is why most copywriters rely on this type of headline because they know it sells.
Here's how you do it...
How I (then narrate your story that contains your promise or the main benefit).
Template #5:
Secrets of __________
Headline Example: Secrets of Highly Paid Copywriters Around The World
As you can see in one of our headlines above, we also use this template. We use the irresistible power of the "Secrets of".
Why? Because we know that using this term is effective in evoking curiosity to target customers.
Here's how you do it...
Secrets Of (then simply insert the topic)
Conclusion
The perfect headlines don't rely on hype or clickbait. They provide reliable promises based on truth which prompt the prospect to go through the landing page and click the CTA button.
Just remember that in writing a headline, the goal is to get the prospect to read the rest on your landing page.