How To Generate Business Coach Leads Using Google Ads Step-by-Step Guide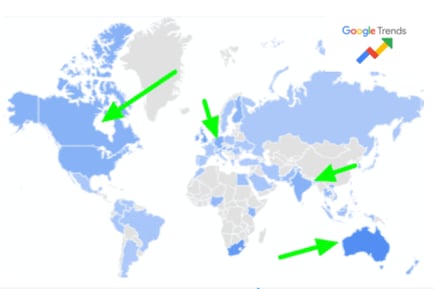 I was answering a question on Quora about the HubSpot SEO when I saw a number of questions wanting to help to generate leads for business coaching firms and I thought, can you generate high-quality business coaching leads using Google Ads?
To google ads to get quality business coach leads is excellent, because over the past five years there has been a steady increase in the search term 'business coaching' and according to google trends, there is a growing number of searches in developing countries like India and Brazil. While most of the global search volume is in countries like Australia, US, Canada and the UK. This shows there is a growing demand of people seeking to grow their business with the help of a business coach. I did more keyword research and I will share with you here the best phrases and what you can do about generating business coach leads yourself.

Free Download: Secrets of Creating A Landing Page That Convert Leads Without Wasting Time.
Before You Start To Generate Business Coach Leads
Below I have added my keyword research for you, but you will need to create the campaign yourself, if you want to understand the principles of lead generation I recommend you read The Beginner's Lead Generation Guide For Business Owners here. But before we begin, there is a term called "ad group" that you must fully understand or else you will just be wasting your time and money.
In Google Ads, the term "ad group" is a group of two to 15 keywords linked to an ad and when a person clicks on the ad, they are taken to a webpage (also called a landing page) where they can find more details and provide extra information on how to contact you, either by phone or completing a form.
You typically have different ad groups for types of services that you offer your customers; however, your customers often become confused by how coaching sessions as a service works, rather they are searching for what they think they are needing. This is why you have a different ad group for "business coach" and "leadership coaching" because they are searching for what they think they need. A good business coach ad will include the search term (or keyword) in the ad, making it easy for them to find what they think they are needing.

When they click on the ad, it goes to the landing page to explain more and this is why the web page shows them what they are expecting. For if a person is wanting help with leadership team and sees a lot of photos and words of business strategies information, they are going to get confused, think you offer leadership coaching, leave, and go to another website. I call this a wasted click and a waste of your money, simply because the landing page does not match the ad.
You must have a landing page for each ad group. The faster way to do this is to have the right tools like a landing page editor where you clone the landing page, make a few minor changes in less than 10 mins and have a great landing page for each ad group and your new customer. I use the HubSpot landing page editor because I can create many different landing pages without needing to modify my website. There are many other tools you can use, just pick one that allows you to create a landing page quickly. Here is a guide to help you.
Create Landing Pages Guide - Provide a list of tools and self-pace instructions to create landing pages with no coding and you don't need to change your website. Here I recommend using HubSpot Landing Page Editor and it is free to get started.
As a business coach, your time with clients and their employees is how you make most of your money, so it makes sense to get a PA or maybe a virtual assistant to help you to manage the lead generation campaign for you. While this is a great idea and will save a lot of time, it is still important for you to learn the basics and guide them on the right keywords and check all the ads. To help check out the lead generation ebook here for other ideas on generating leads.
Select The Best Google Ads Keywords For Your Business Coach Firm
Google Ads has a keyword planning tool that makes it very easy for you to find keyword phrases that people are using to search for business coach services in your local area. I recommend that you focus on creating five ad groups first because it can become very confusing and overwhelming when you're first starting out. The first five ad groups should focus on your main services such as business coach, strategy, and consulting. You can come back to do your other services, like leadership or special industry groups later.
Below, I am sharing with you my keyword research groups to make it easy for you to write the ads because the best performing ads will always be related to keywords and the landing page. Please check the volume of the monthly keywords using the Keyword Planning Tool to ensure there are people in your region searching using these words.
Like in my google ads training, always use "phrase match" when starting a new campaign.
Ad Group

Keyword Phrases

Business Coach

b2b coaching
biz coaching
business analyst coaching
business coach
business coach consultant
business coaching
business coaching and consulting
business partner coaching
coaching and consulting business
coaching companies
coaching company
coaching for business
consulting coaching business

Strategy Coach

business continuity coaching
business development coach
business growth coach
business performance coach
business results coaching
business strategist coach
business strategy coach

Small Business

business coach for small businesses
coaching for small business owners
coaching small business
small business coach
small business coaching services
sme business coaching
sme coaching

Leadership Coaching

communication coach
confidence coach
leadership coaching
management coaching
relationship coach
success coach
team coaching
transformation coach

Entrepreneur Coach

business coaches for entrepreneurs
entrepreneur coach
entrepreneur coaching
Normally you should never use a single keyword phrase like "cpa" or "business coach" because these words can have different meanings or intentions. However, for a word like "Accountant", this is okay.
Here are optional ad groups that you can choose depending on your services, country and region. Note you can use keywords to focus on sub-groups like niche industries and corporate, or expand into personal skills like speaking, sales and accountability.
Ad Groups

Keyword Phrases

Accountability

accountability coach
accountability in coaching
business clarity coach
coaching accountability
coaching and accountability

Business Mentor

business coach and mentor
business coach mentor
business mentor coach
coaching and mentoring
coaching mentor
executive mentoring
leadership mentoring
business mentor

Executive Coaching

business and executive coaching
ceo coaching
corporate coach
corporate coaching
corporate executive coaching
executive business coaching
management coach
executive coaching
management coaching

industries Not-For-profit

executive coaching for nonprofit leaders
non profit coaching
nonprofit executive coaching
nonprofit leadership coaching

Industries Tradies

builders business coach
electrician business coach
plumbing business coach
trades business coaching
tradie business coach

Sales Coach

sales coach
sales coaching
sales mentoring

Speaking Coach

coaching powerpoint
executive speech coach
powerpoint coach
professional speaking coach
public speaking coach
public speaking trainer
speech coach

Startup Coach

executive coaching for startups
lean startup coach
startup business coach
startup ceo coach
startup coach
startup coaches
Remember to add your negative keywords, and you also add any negative keywords for services you don't offer. For example, if you don't want to be doing coach training program or work with not-for-profits, just add the negative word "coach training", "not for profit" and this stops your ads from being shown to anyone who includes the word in the search phrase saving you money on wasted clicks.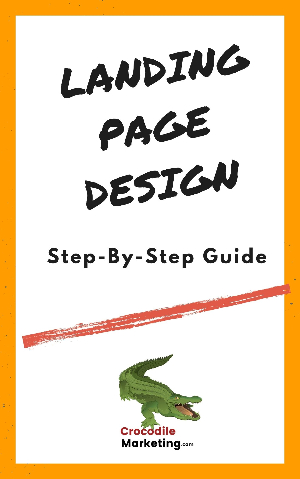 Learn 4 software tools our staff use for our clients to create landing pages faster.
Write The Perfect Google Ads For Your Business Coaching examples
Personally, I also know the owner of a business is the person to write the ads because they know their business and the little things they do are different from other coaching companies. It is these little things that will make your ads stand out. A Google Ad has three headlines (30 chars) and two description lines (90 chars) and should include the keyword phrase that the person is searching for in the ad. To get the best results, write three ad versions for each ad group. This way Google can test each ad version for you and will automatically use the best performing ad for you.
Start by writing three headlines, Google joins these headlines together on one line. Always use at least one keyword phrase in the headline, if possible, join the keyword phrases together like "Leadership Coaching" and "Management Coaching".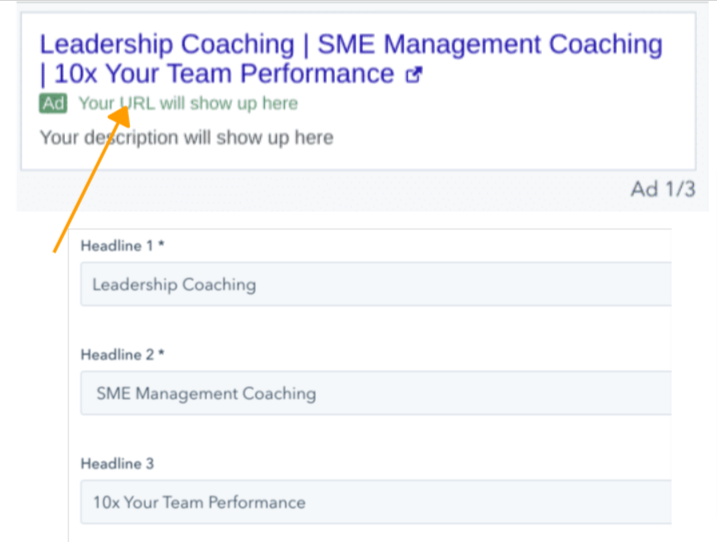 Next, write the two ad descriptions using just 90 characters per description. Start by looking at your landing page when a person clicks on it for ideas. This will ensure that your ad matches and uses similar wording as your ad.
Lastly, you are to add the landing page URL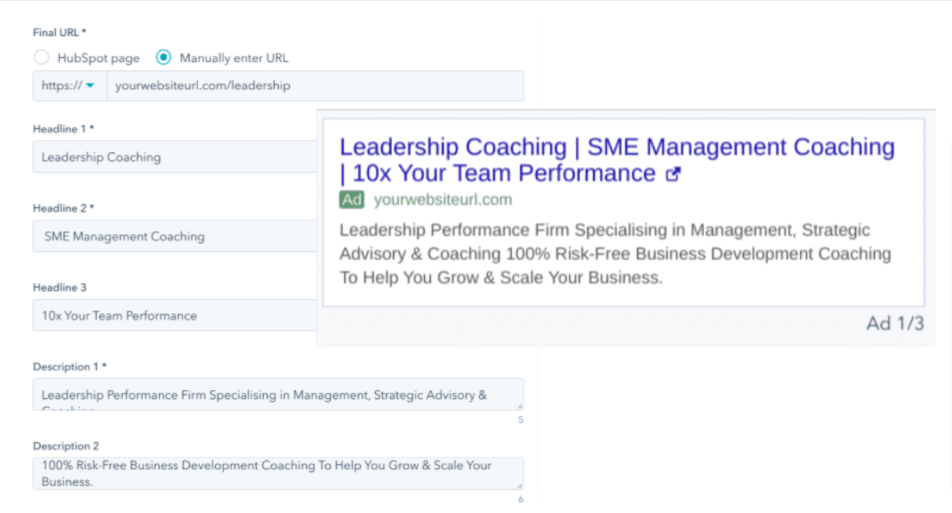 Well done! You have written your first Google Ad. Now write two other versions of the ad, by allowing Google to test your different versions to work out which of the ads is the best for you.
The Right Google Ads Setting For Your Business Coach Company
For any Google campaign, there are four main settings: Networks, Audience, Language, and Budget.
Always select Search Network, do not use the Display Network when using the method that I have listed above. (Search Network will display your ad on Google search page, while Display Network will show your ad on videos like YouTube and on mobile apps).
Choose the audience location, you can select any country, region, city or suburb. You can also type in the postcode or zip code to narrow down where you want to show your ads. Coaching can be done online, so don't be afraid of targeting the whole country.
Let "English" for language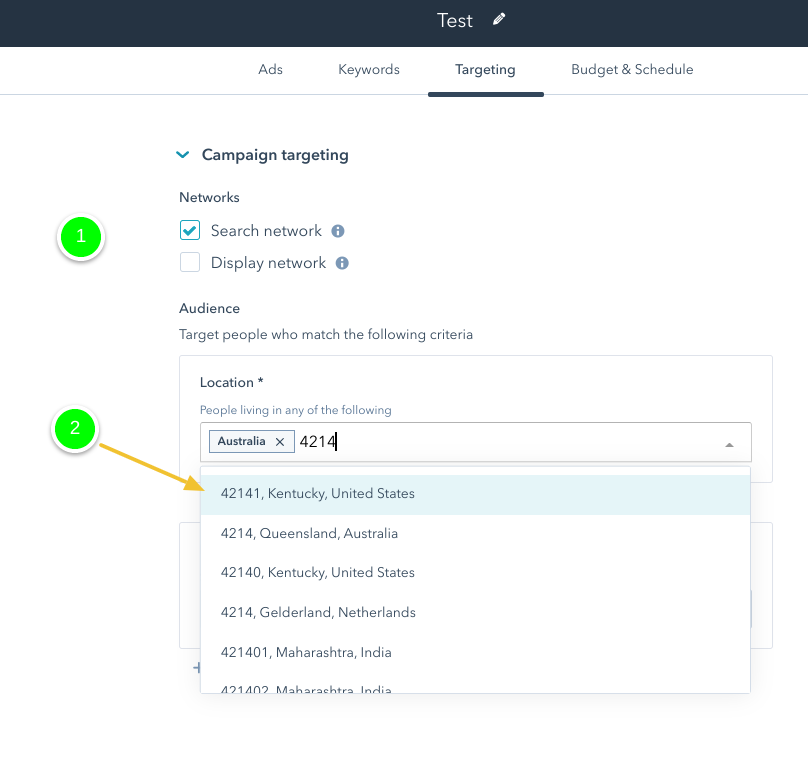 Next, you will want to set the daily budget for your campaign. The goal is to collect enough clicks to test your ads and keyword performance. Here I suggest you set the daily budget to $10 per day, this works out to be $300 per month.
Then select Maximise Clicks.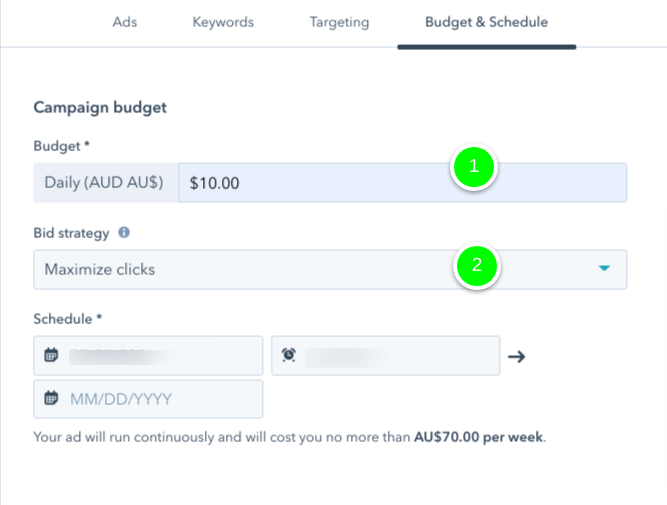 Now you can click Finished, and your Google Ads campaign will be created and will start running. Just note, it normally takes about 24 hours before you will start to see any results.
Optimizing Google Ads For Business Coach Leads
Optimising Google Ads for coaching campaigns does not need to be complex if you follow a few rules.
Always review results when you have enough data to review, Google Ads is faster and cheaper to test an idea than if you were to use telemarketing or ask people to do a survey. This way you are testing your campaign and have a higher chance of getting new sales at the same time. So, your goal is to wait until you get 100 people to click on your ad.
Just check the campaign 24 hours after you start to make sure your ads were approved by Google.
Each week go into Google Ads and check the number of clicks, when you get at least 100 clicks you use the following to guide you.

If the click-through rate (CTR) is below 2%, you will need to rewrite your ads.
If the click-through rate (CTR) is approx 4% or higher, then you have mastered the Google Ads.
There are more tactics you can use to increase your lead generation for business coach leads, so if you would like to learn more about lead generation, why not check our Lead Generation Training and coaching course here.