5 Ways Automation Can Make Your Lead Generation Feel Like A Giant
There is a common theme among many sci-fi movies, armies of machines created by a few enlightened individuals that are able to progress humanity at an unbelievable pace and crush all opposition.
In many ways, this principle can be applied to modern Sales Training as well, and HubSpot can help you make sure that your own Campaign can benefit from these tools.
While more volume isn't always the answer to successful campaign outreach, here's how you can turn your sales outreach from good to great -- plus some helpful email campaign templates you can implement today.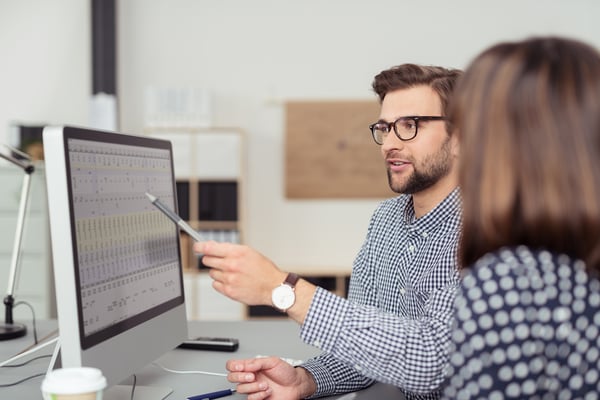 1. Built-in dial analysis
You want to make sure that you're able to discern the best calls from your team from the worst, and from those that are halfway there.
This may not be immediately obvious to the untrained eye, and we can make use of algorithms to help us pinpoint exactly where to focus.
Dial analysis tools like Rambl can do this for you. They allow you to see when certain topics are coming up (i.e., competition, budget, and timeline) and monitor for certain keywords (i.e., cost, specific features, and point points) in those conversations.
Your sales reps will gain the ability to see their performance from the perspective of listen time and followup, while receiving additional analytics on their calls in order to see which aspects of their pitch to sharpen up.
Dial Analysis will also give you, or your managers visibility into the quality of the conversations that your reps are having on the phone. This can in turn be used to alter any existing call scripts in order to streamline the call process and gain time to be used on more profitable tasks.
2. Automatic contracts
Tricky customers are part of the business, but we want to make sure that the time invested in handling them is worth the cost of investment. Deals that will never have an average revenue per account (ARPA) worth your time can still add value to your company -- but you don't want to use account executives on unprofitable accounts.
There are tools that allow certain qualified leads to self-select into your closing process. PanaDoc, for example, enables you to add lightweight contracts right into your workflow. This lets your reps focus on larger, more complex deals and relies on a low-touch/no-touch model to bring in SMBs.
While you can fully automate this type of contract, you can have certain customer types (those that raise their hands) pinged with the right information to make a buying decision when and where it's convenient.
These tools also come with their own reporting and analytics, in order to keep an eye on how they're performing on their own and if you need to rethink part of your strategy.
3. Hand raises
When one of your prospects engages with an email, you usually know you're on the right track. Once the prospect visits your website, your BDR team can begin their part of the work.
After a prospect has self-selected, by showing interest in your product via the methods outlined above, social media or other forms of common engagement you are given the opportunity to connect with them at the right time in the buying cycle.
HubSpot Sales has a text alert function, which you can set to notify you or your Sales Team of any time a prospect performs a specific action.
These actions can be clicking on the links in your outreach email, or visiting a specific page on your website for example, and this can in turn notify your relevant BDR teams in order to connect with the prospect to field questions and qualify the opportunity.
4. Direct mail campaigns
When other means of contact may have failed, it is worth falling back on simple e-mails before throwing in the towel.
Direct mail has come back into the forefront in recent years, as a great way to get through all of the noise prospects have in their inbox. It lets the prospect interact with you on their own terms and many prefer working through a more organised backlog than interrupting their schedule or directly interacting with a sales rep for their first approach.
Tools like Inkit make it easy to automate direct mail helping companies leverage exploding offers and promos to the tune of a 8.9% redemption rate. Those numbers alone when applied to what otherwise would become lost prospect can convert into substantial revenue.
These systems integrate directly with your outreach cadence, your HubSpot CRM, and your other conversational commerce channels (i.e., chat).
5. Automated email sales campaigns
Marketing automation is perfect for nurturing campaigns and email newsletters. But when it comes to sales -- especially if you're doing targeted account selling -- pure automation is dangerous.
We have talked before about the importance of human value in interaction, and it is paramount to understand the dangers of over reliance on automation.
A Campaign Template is worth following, and I would suggest touching briefly on these points for your first warm outreach email:
Keep it short: People don't have much time to read, let alone respond to your email. Aim for no more than three to five sentences.
Open strong: Mention a common professional connection or interest, offer congratulations on a new job or award, or send a relevant piece of content.
Offer a compelling value proposition: Distill the value of your product into one sentence.
Include a call to action: What action do you want your prospect to take next? Ask a specific question or give them instructions on how to follow up.
Sound like a real person: Remember, people want to connect with other people. Buyers are much more inclined to answer an email that says "Hey prospect, did you have a chance to check the whitepaper I sent? Let me know!" than one saying "Dear Mr. Prospect, I would like to cordially invite you for a brief demonstration of our product. Sincerely, Mr. Salesman."
Choose a relevant subject line: Don't slap on a completely irrelevant subject line.
With that, I hope that this type of plan can help you improve in your sales training and outreach.
You can provide value to your customers in many different ways, and making sure than human action can be taken when most necessary will certainly convert into value for your own company.