11 Apps To Help You Manage Your Lead Generation Tactics
Introduction
In earlier articles we saw the importance of Lead Generation, and the flowchart-like nature of the lead development process.
There are many tools that can help us get started, and possibly improve the efficiency of our lead generation process, as there are many aspects in running a business that we can focus on:
From our initial presentation, to the way we gather contacts and information on those contacts, to the deeper stages of our prospect analysis in order to further optimize and improve the efficacy of our work.
While this may sound overwhelming at first, I went ahead and compiled a few examples of convenient and easy to use tools that may help you achieve your goals.
1. Landing Page Builder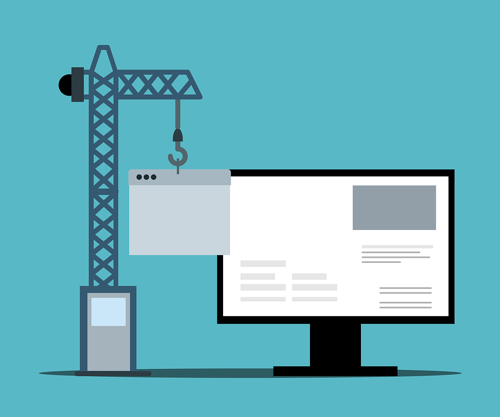 I would like to focus now on getting our hands deep in the action, by looking at what is for most businesses the first step in lead generation: attracting first-time viewers to enter our contact network via an effective Landing Page for our website.
A landing page is a webpage that is displayed when a potential customer clicks an advertisement or a search engine result link. This webpage typically displays easy to absorb information with the lowest possible amount of distractions to a would-be first-time reader.
Landing pages are one-page websites that have a specific focus, to serve as an online business card or flyer for your business or brand.
They can be used to promote or sell a product or service, to gather information on your potential users via future outreach campaigns or simply as a way for viewers to easily get in contact with you.
We have selected a few options to help you get started:
We recommend the HubSpot Landing Page Builder, and we'll get into why in the upcoming paragraphs.
To create successful lead generation campaigns, you'll need to constantly focus on the end-to-end customer experience. HubSpot's free landing page builder is rooted in the CRM, and comes with all the tools you need to run a successful marketing campaign.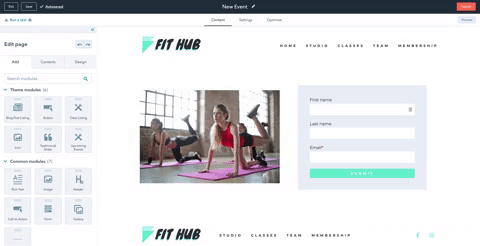 The dashboard (visible above) shows all the integrated tools at your disposal in the creation of your landing page.
In addition to directly building landing pages, HubSpot offers a template builder to standardise the layouts of your future emails, blog, website and more landing pages, a file manager, and a form and call to action editor in order to further customise how you're driving prospective leads towards your business.
By clicking on "Create a New Landing Page", you will have a highly responsive template selection tool at your disposal; however, I have found that the default 20 templates available in the free package may be too rigid for one's immediate needs. These can be customised further via the Landing Page Creation, or you will always have the option to purchase more premade page templates and packages via the Template Marketplace.
Once we've selected a template that we like, the drag and drop editor is where the platform's responsiveness really shines, the left bar will allow you to preview, optimize the page and edit each body module with little effort.
The preview option will show us our page layout for all common display resolutions including smartphones, tablets and so on. The optimization tool features many SEO and visual suggestions such as adding keywords to our page based on proven marketing trends, and finally the "Edit Modules" feature allows us to conveniently customise our landing page via the always appreciated snappy and responsive drag and drop function.
Up next, we'll see how different apps and platforms can help you further customise the type of your landing page to match your goals.
2. Form Capture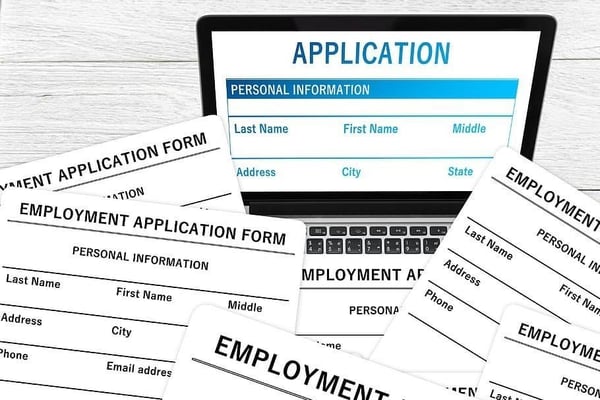 There isn't much wiggle room in how an online form aimed at gathering information is built, it needs to be clear, concise, requesting the information that we need while at the same time avoiding unnecessary verbosity and stress on the would-be compiler.
Most form apps offer the same set of features, you'll usually find a variety of question and field options, a drag and drop editor, and basic themes and templates.
For data analysis purposes, most of these platforms will create a spreadsheet with the information received and keep it updated, sending you email alerts whenever a new response has been submitted.
Now, are there any differences between platforms that ultimately matter? Are there any pitfalls to avoid when choosing between apps and services that are so similar to each other?
3. Online Form Builder Apps
We recommend sticking with HubSpot for its Form Builder, due to how it will apply to your CRM with leads from your website using a powerful online form builder.
Once again, the drag and drop interface makes everything very convenient and snappy to set up, everyone who fills out your answer form will be automatically routed into the HubSpot CRM for data collection.
A dummy profile is then automatically created for each individual, which allows you to further manage your relationship with them by setting reminder tasks, calling them, enrolling them into email campaigns or sending them personalised emails.
You can easily add your form onto your website in seconds, or use a standalone form page to quickly share your form with others.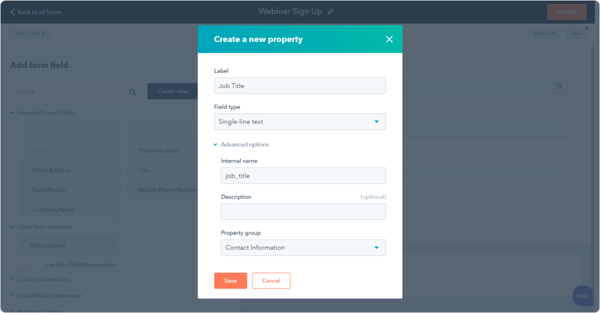 4. Campaign Phone Call Tracking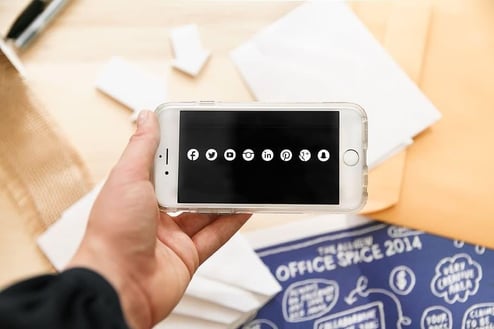 Human psychology dictates that it is much easier to form an emotional bond with someone via more physical or physically-adjacent interactions.
This comes into play for us when it comes to phone calls – when a prospective client is hearing our voice (or the voice of one of our representatives) they will start putting a name and an image to our business.
In turn, data analysis and proper tracking will allow us to truly appreciate the value of phone calls as a contact method with our clients, vendors and other businesses we may interact with.
For any business with a phone number, where phone calls are a notable conversion point, call tracking is vital.
Call tracking software enables marketing teams to analyse and report on the success of their marketing campaigns, based on the number of phone calls received and the revenue associated with these calls.
Call tracking therefore plugs the gap in data analytics, bringing phone call analytics in line with the types of insights usually associated with digital campaigns.
The main benefit of call tracking is finding out information about your callers, as they will be more likely to empathise with a person on the other end of the line, but what you ultimately do with that information is what makes call tracking truly helpful in optimizing your marketing campaigns.
These are the two main options we would suggest choosing from:
CallTrackingMetrics, which includes all the valuable session information associated with the call, text, or form, allowing you to holistically view your leads and manage call conversions.
Callrail, which lets you view your inbound phone calls alongside other lead activities, and create automated workflows that trigger events based on phone calls.
We recommend WildJar for campaign tracking for all your offline campaigns.
This tool in particular allows for the following:
Discover exactly which advertising channel has caught your customer's eye.
Answering questions such as "Have they called before?" "Is the lead valuable?" via Geo Location Mapping.
Analyze what your staff are saying (or not saying) in their calls and transform every conversation into a good one by improving call scripts or finding points to focus on moving onwards.
Seamlessly integrate WildJar call data into your preferred platforms to complete your customer journey and measure ROI.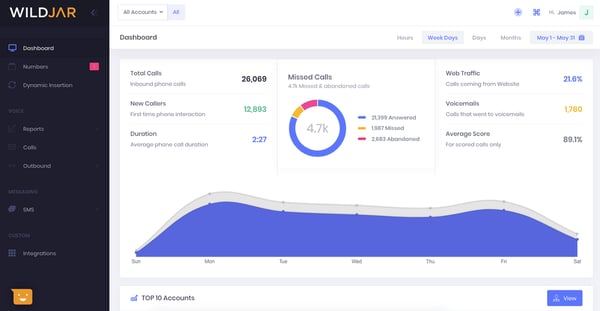 5. Web Behaviour Analytics Tools
Web User experience (UX) is probably the broadest category of user behaviour, and it could be argued that all user behaviour is ultimately impacted by it. It's important to understand this, as your prospects' first impressions and repeated experience with your tools and Landing Pages will greatly impact your lead generation.
User behaviour is very personal and can be harder to track, requiring collaboration between designers, developers, and marketers if you or your team don't have a specific role for it.
The User Behaviour we want to Track normally includes the following:
In-page clicks & mouse movement
Scroll depth
User navigation patterns
Time spent on each page
Live visitors
Recordings
Site speed
With that in mind, three options to look at are:
Crazyegg, which provides a variety of tools for monitoring website user behaviour.
Inspectlet is another excellent option for companies looking for a more technical approach to web optimization. One of their most robust features is their ability to indicate to marketers what their Google Analytics reports are telling them.
Mouseflow is another excellent behavioural analysis tool with many of the same features as Hotjar: heatmaps, session recording, and funnels.
We recommend Hotjar as it is a simple yet powerful optimization tool that lets you see your customers' behaviour on your site in real-time, with no coding knowledge required.
Hotjar gives you access to web analytics and powerful insights into which parts of your site are engaging visitors the most, so that you can make critical design decisions and start seeing better results.
Hotjar is a so-called "all in one" behavioural analytics solution. It combines multiple analytics tools into one platform, reducing cost and complexity for your team and allowing you to focus more on making your products and services outstanding.
This tool uses behavioural tracking to determine where users scroll and tap on your pages, helping with analysis of your sales funnels, and showing you where users complete forms or drop off.
A neat feature for the visual learners is that Hotjar provides heatmaps that allow you to see how people interact with your website. Hotjar tracks the content of your pages and shows you the percentage of visitors who read certain sections or click on any call-to-action button.
Here's an example of what Hotjar's heatmaps look like.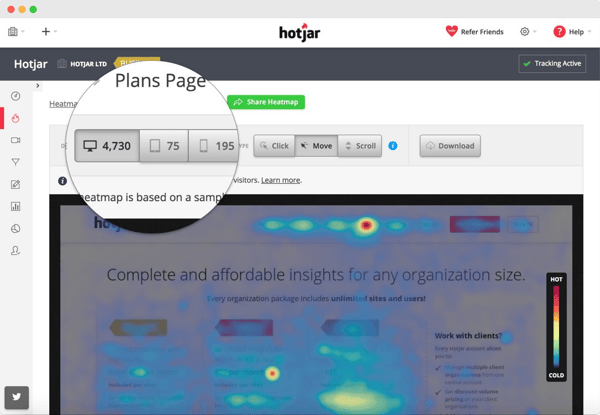 Visitor recordings allow you to play back moment-by-moment views of what your user sees. Even with just one or two users, you can identify shared behaviors and get powerful insights. This is what will give you a full-on look at your user experience.
With this tool, you can improve form conversion and make sure your website guests can successfully and quickly complete your online forms.
6. Lead Generation CRM integration
All Lead Generation needs to integrate with your sales CRM, as this process can be automated. It is inefficient and wasteful to dedicate staff to data entry that can be done right away without effort by your platform of choice.
Ideally, you should be employing trained staff who will focus on data analysis rather than boring and unfruitful data entry.
Depending on how you do lead generation, it may be worth taking a second look at your choice of CRM system.
Most CRM systems are already heavily focused on lead generation, but we can take this a step further by finding some options that are even more focused through integration; that in turn can provide us with additional benefits, such as website traffic insights or helping us manage our social media ads.
In order to find the best CRM systems that cover the aforementioned points, we went ahead and evaluated a dozen options at different price points with varying degrees of features, ease to set up, and strength of integration.
A few worth mentioning are
The service that we ultimately recommend is HubSpot CRM. We find it is a great choice for businesses that want to centralise multiple lead generation and marketing channels, and it includes a web form and landing page builder even in their free version.
With the easy-to-use HubSpot CRM, you'll never have to manually update reports or wonder how your team is tracking toward their monthly or biweekly quota.
Your contact records are automatically enriched with data from over 20 million businesses. With tools that notify your salespeople the minute a prospect opens their email or visits your website, they'll have all the context they need to follow up with the right leads at the right time.
Connecting with prospects has never been easier with free meeting scheduling, live chat, email templates, click-to-call functionality, and more.
7. Google Analytics

At this point, everyone knows Google Analytics or knows of Google Analytics. The main downside is that due to its interface or the technical skills of those working with them, most people do not use it correctly or lack the necessary skills to set it up in order to get the most value out of the data it can provide.
There are many Analytics tools out there; however, due to its free and widespread nature, we recommend taking the time to get accustomed with Google Analytics.
We went ahead and compiled a couple links that can help you up your game and get started.
8. Ad Campaign Monitoring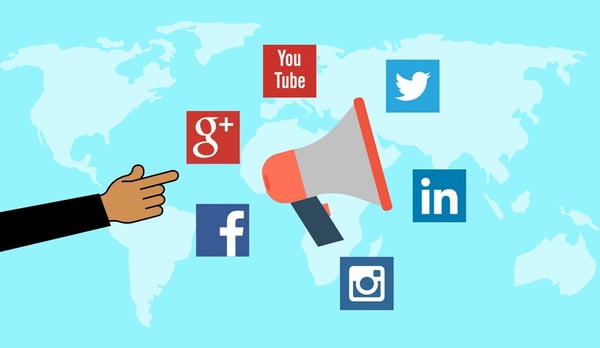 Campaign management is a catch-all term for the work that goes into planning and executing a marketing campaign.
This includes coordinating the following: inbound and outbound marketing, lead management, customer segmentation, relationship management, email marketing, campaign creation, campaign performance, campaign execution, content creation strategy, market analysis, and the project management required to organise all these efforts.
Campaign management also includes analysing and measuring the effectiveness of these activities once the campaign is over.
We have found three options worth looking at.
ZOHO's omnichannel support is a major selling point: well-thought-out mobile integrations, good analytics.
Salesforce is the expensive, tons-of-features option that may be a bit much for those who are just getting started. That said, when a cloud-based CRM has its name on a skyscraper, you can't exactly leave them off of the list.
ZenDesk Sell is a CRM in the ZenDesk family of products with an emphasis on the sales funnel, with plenty of integrations, and a mobile app that gets good reviews.
We recommend using HubSpot Ad Management, and we'll get into why below.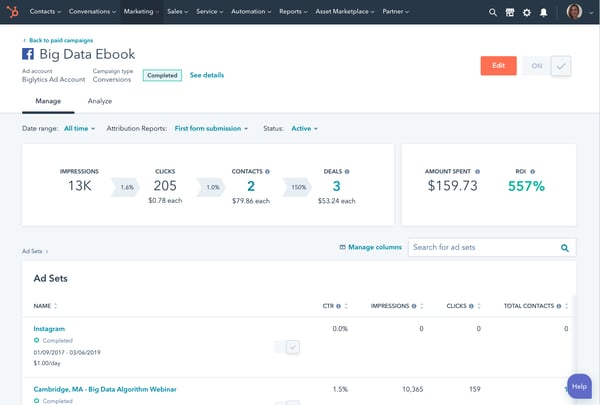 HubSpot Ad Management allows you to connect accounts from supported ad networks to your HubSpot account. It will allow you to create audiences from your HubSpot CRM to see which ads are generating customers.
HubSpot ad management helps marketers stay targeted and relevant throughout the lead development journey, and most importantly, drive more conversions and ROI. With CRM-powered targeting, the ability to report on data at every stage, you can manage your leads at scale and with efficiency, all from one data source on one platform.
HubSpot simplifies the process to bring all your ad campaigns across teams, platforms, and geographies into one place.
HubSpot's ads manager delivers insights on the leads and ROI generated by each ad. You'll want to use attribution to understand how ads are performing and allocate money toward what's working.
Ultimately, HubSpot Ad Management will let you connect your accounts, apply your tracking pixels, and start syncing leads with just a few clicks. No developer or IT setup required.
9. Spelling Checker Tool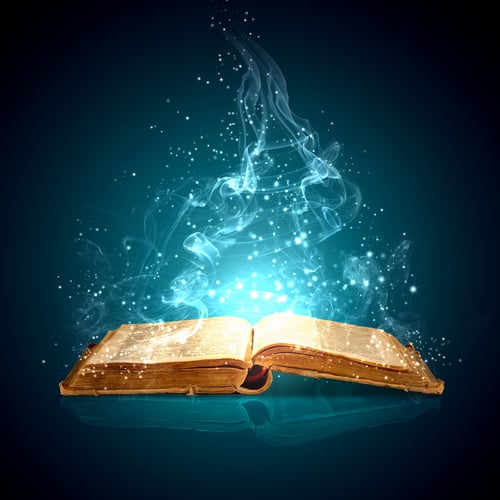 Spelling errors are a big turn-off for the more educated readers, which in turn will impact the quality of your lead generation.
While one to two mistakes are okay, too many will lead to poor or no results, tainting your brand and lead generation. Luckily, this is easy to fix.
Online grammar checker tools are also useful for those who just want to write error-free emails, reports, presentations, or even social media posts.
A few free options to check out are the following.
Grammarly is a writing assistant that not only corrects grammar but also gives you comprehensive writing feedback.
ProWritingAid, a London-based software firm founded in 2012, is a software tool that acts as your virtual writing tutor and grammar checker as well as a personal writing coach.
Whitesmoke is used to check your articles for spelling and grammar mistakes, punctuation mistakes, and more. It's useful for writers and non-English speakers on a tight budget. It also identifies any errors in sentence structure.
Regardless, we ultimately recommend using a real person with excellent grammar to produce your written content.
If that option isn't available to you, we suggest using an online service called Eangle Proofreading. It is a service that allows you to easily correct and proofread all of your written material, like emails, articles, documents, presentations, and more. They will correct your spelling, punctuation, grammar and any misused words.
10. Headlined Line Optimiser
What's a foolproof way to ensure that no one reads your lead generation ads? Writing a boring headline!
Some marketers argue you should spend 80% of your time on headlines and the other 20% writing on the benefits, as that is how big the value of first impressions can be.
Whether or not you agree with that, one thing's certain: if a person can't get past your headline, you were unable to catch their attention and your offer means nothing. That's why we want to share with you a good headline analyzer tool.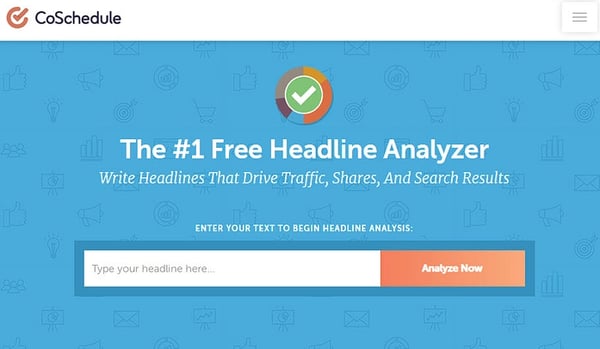 CoSchedule Headline Analyzer starts by asking you for a headline you're thinking about using.
It then uses a database to help you capitalize on the types of headlines that have converted well in the past. The tool suggests the right words and optimizes the character length to ensure that all of your headlines are engaging.
CoSchedule doesn't require any payment to use.
It logs your headline history to compare how much better your headlines are getting.
Your headline is categorized as generic or emotional, prompting you to reconsider the structure.
11. Chatbot
As we learned about the importance of response time, chatbots is where easily answerable questions intersect with the need for speed.
Chatbots are a valuable tool in boosting your lead generation online, as they will represent another way for prospects to learn more about your product or potentially get in touch with one of your service agents or salespeople.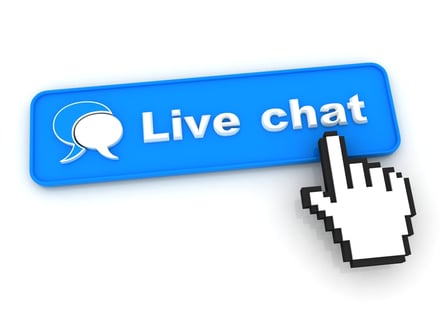 Using chatbots for lead generation represents a more conversational approach in order to gather information in the buying process or qualify leads. Chatbots allow website visitors to navigate through a tree of options and enable businesses to actively engage with prospects, thus keeping them from leaving your website unconverted while containing the need for active support staff.
An efficient tool throughout the purchasing journey, chatbots help build relationships with customers and prospects and engage with them 24/7. They ensure you never miss a lead by assisting your website visitors outside of business hours when your sales team or live chat operators are not available.
When a new or returning visitor enters your website, a lead generation chatbot can be triggered with a proactive message that welcomes visitors to the site.
For this purpose, I only recommend one option, the HubSpot Chatbot Builder Software, which will let you start for free.
It will qualify leads, book meetings, provide customer support, and scale your one-to-one conversations for you -- all with chatbots.
Its main features are the following.
Easily create bots that help you qualify leads, book meetings, provide answers to common customer support questions, and more so that your team has more time to focus on the conversations that matter most.
No experience creating chatbots? No problem. HubSpot's pre-written and tested templates and intuitive chatbot builder make it easy to get started.
Any information collected by your chatbots will automatically get synced to and stored on a contact's timeline, giving your whole team complete context and a crystal clear view of every relationship.
Conclusion
Today we saw a number of possible approaches to improving your online and offline lead generation, and the myriad of tools available in order to facilitate the process.
It is always worth it to take the time and periodically re-evaluate some of the tools we're using, especially when it comes to CRM, as a shift in company size and focus may require a different approach to our sales and lead generation process.
I'm sure that the tools introduced in this article will be able to give you a better outlook on what you can do to improve your Lead Generation and Selection process, with plenty of room to automate future data collection.