Revolutionary Google Ads Display Audiences (Waiting Just For You)
The quote above is sort of fascinating, just simply on the basis that when it comes to creating ads you really have to first be able to visualize it and understand it from your own mind, in order for you to take that message out there to attract all the appropriate new customers and leads that you want for your business.
To be able to create a successful ad campaign for your business, it is important to understand the advertising platform, how it works, and how you could better reach your audiences.
So, in this article, we'll discuss Google Display Ads. But we will be looking at it from a slightly different angle. We will be looking deeper at how Google Display Ads works, the different types of audiences available just for you, and how you can align your products and services to these existing audiences.
Furthermore, you will also learn about some tips on how to build your audiences and your ads as you move forward with your Google Display Ads campaign. You are also welcome to join our practice hub and learn more improving your advertising skills using our 30-day free trail.
Before we tackle the different types of audiences you can target for your ads, let's first take a look at the differences between the Google Display Network and Search Ads.
Google Display Ads vs Search Ads: What's The Difference?
Search Ads are paid ads appearing either on top or beside the Google results page. This is a text-based ads triggered by keywords assigned by the marketer and distinguishable by the "Ad" tag on it after someone searches through the Google search engine.
Google Display Ads, on the other hand, are the ads shown to users through the Display Network that Google provides to web owners and bloggers who want to make a bit of extra money on their websites using Google Ads.
The Google Display Network (GDN) allows your ads to be in front of prospects without waiting for them to find you through Google searches. It lets your brand be more active in the discovery stage, introducing your product or services even before they need it.
Well, the Google Display Network (GDN) is really designed to allow you to promote your ads outside of the search network.
Why Choose Google Display Ads?
Search Ads can be effective and advantageous at some point, but Google Display Ads is better because it gives you the opportunity to use more visual, more call to actions, and brighter colors so your brand stands out as opposed to the search ads which are more on texts.
In addition, Google Display Ads is the best tool when it comes to prospecting and brand awareness. With it being colorful and attractive, it immediately catches the eyes of the users whether they are simply viewing the site or reading a blog article. Even if they do not know your brand and do not understand the business yet, they will somehow become accustomed to it.
Now, the conversion rate in the network is still typically under 0.5% but when you're targeting prospects outside of the search engine and social networks, it's still pretty good.
Prospecting or Remarketing? What Should You Do?
When it comes to targeting now, should you do prospecting or remarketing? Well, the reality is that you can do both techniques.
First, you can target prospects on the internet who may have no previous knowledge of your website, brand or products.
After that, you can use remarketing to people who have already engaged with you on your website as a way of reminding them and reaching out to them, maybe a second and third time.
Through that process now, that's where we can assign custom audiences as our target when creating the Google ads.
But Google actually provides quite a lot of other audience types that you can tap into as a way of displaying and building your personal brand. You can segment audiences based on demographics, affiliate segment, custom interest, and similar interest.
And of course, you can do the remarketing for people who have revisited or have previously visited your website.
Types Of Google Ad Display Audiences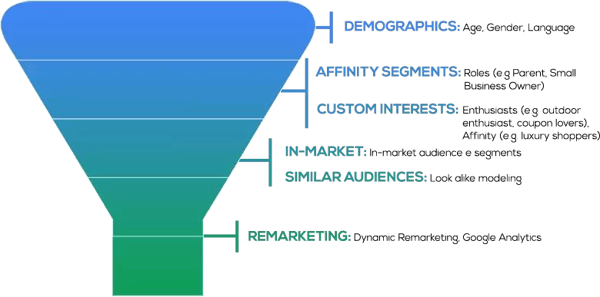 So, let's jump in and have a deeper look at the different types of Google audiences that are ready for you to target with. Google breaks them down into five categories.
1. In-market Segment
In-market segment is a group of Google users interested in broad categories of products and services such as real estate, education, home and garden, sports, and fitness among others.
With In-market segment, Google defines the segments based on the users' historical views, clicks, and conversions on previous content. Google categorizes the audience based on the users' search criteria and the websites they are visiting.
2. Affiliate or Affinity Audiences
Affinity Audience is the same as In-market segments that grouped Google users according to similar interests like cooking, fashion, beauty, gaming, travel, etc.
This type of audience though covers very expensive categories. Thus, you may want to do quite a lot of exclusions down, so that you're only getting into the right size of that affiliate interest. You may break it down by demographic like by sex, age, and location.
3. Custom Intent Audiences
Custom Intent Audiences are another group of Google users you can also target.
Custom Targeting shows your ads to people who might be interested in specific keywords and website URLs. It may also show to people who have recently searched for your suggested keywords.
With Custom Intent Targeting, Google shows your ads to websites that have a contextual connection to the URL or the keywords given to Google. With that in mind, you can tailor the specific keywords you want your ads shown to. The groups of people who have used those words in the past can then see your ads.
4. Placement Targeting
Now, this is quite interesting. It is being said that if you understand your customer, you know where they are tending to read or consume the content online.
Placement targeting gives you the ability to start choosing what websites you want to have your ads displayed on. You can basically exclude websites you don't want your ads to run on.
Placement targeting limits display ads to only show on websites selected by the marketer. This is certainly a very powerful way if you find your ad running and showing on gaming websites or gaming apps. You can exclude those types of websites from your ad grouping. You can optimize your ad by excluding certain websites that are irrelevant to your brand, products or services.
You can think of placement as a good way in which you can choose to have your ads placed on those websites or go the other way
5. Topic Targeting
Topic audience targeting is very similar to affiliate and custom interests. But with topic targeting, you can control what topics or interests you want your ad to be shown to.
Basically, it's just a different way of thinking about how you can start to do your whole grouping across.
Three Important Aspects To Consider When Creating Your Display Ad Campaign
Now that you already know about the different types of Google Ad Display Audiences you can target for your brand, product, or services, there are three more things you have to be mindful of when you're starting to build your display ads.
1. Selecting the right device

The first thing you have to keep in mind when building your display ads is the type of device you want your ads to show. Selecting the right device is crucial to the success of your ad campaign.
If your business is an online shop, you may want to target mobile phones. If your target audience consumes content, you may want to select tablets or desktop computers. It is really important to choose your device carefully.
To determine which device converts better for your business, it is best to create multiple ad groups for different devices.
2. Choosing the right demographic and location

Another thing you should bear in mind when building your display ads is choosing the right demographic and location. You should be able to determine beforehand what type of demographic and which location you want your ads to show.
This is of course to ensure that you are making your ads display to the right region and right people you want to target.
You can target right down to geographical cities, states, and even here in Australia.
3. Marking the box for content exclusion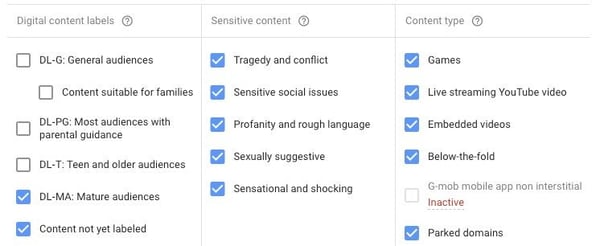 If there are certain types of content or website you don't want your ads to show, then, you should consider marking those boxes for content exclusion. This is exactly where you can have control over the types of websites you don't want your ad being displayed to.
If there is a website out there that creates content for a mature audience, you can choose not to have your ads displayed there. You can choose not to have your ads displayed on those environments.
Conclusion
Google advertising allows you to target the people who are likely to be interested in your products and services while filtering out those who aren't.
Join our practice hub and learn more about Google advertising to understand further how you can effectively segment your audiences for your business. You can practice in small groups or by yourself. Sign up to our 30-day free trial today.