Introducing Pillar Pages to Increase SEO Ranking (For Awesome Results)
Nothing better to start off today than with a quote,
"A professional marketer is an amateur who just doesn't quit." - unknown
The quote above sort of takes us back to the premise that as marketers, our job is not really to be the expert, but rather be a student of our customers.
As marketers, we should always understand our customers' nature as to what drives them to buy.
And as we move into technology, we should also study some of the phrases and keywords that customers are searching for in the search engines.
Today, we will introduce to you the Pillar Pages to Increase SEO Ranking for Awesome Results.
We will look at what is a Pillar Page, how to look at it, and how to tie your selected topics to your keywords.
We will also look at one of the tools that you can use to create your overall topic.
But before we delve deeper into Pillar Pages, let us first take a look at how SEO has evolved with technology.
History of SEO
In a traditional sense, when we started our websites, we often filled them with blog articles. Those blog articles will be in sequential order.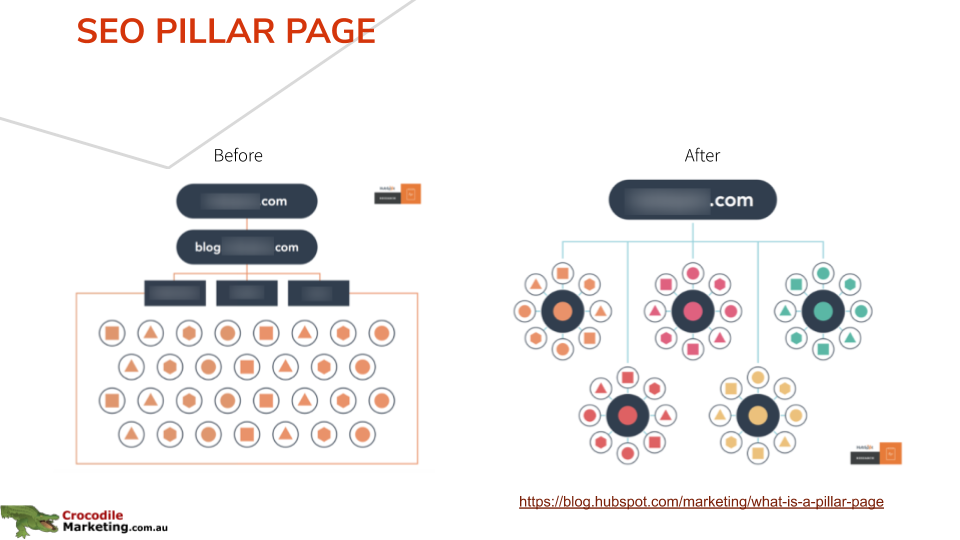 From a website perspective, the blog would be very much like what we see here on the left-hand side of the image. They are sort of in those different topics, laid out in a big batch with a menu structure up the top.
Typically, what occurred is that Google has gotten smarter by trying to understand what a web page is all about.
This comes back to the premise that Google just wants to give the best results out of the searchers' queries.
Google has developed the AI capabilities to better understand what the page is all about. Google looks at the headlines, paragraphs and the words being used on the page. It also looks at what other pages are linked to the core topic.
This is where we start to see the website breaking up into clusters, bringing the website structure and blog articles into a circle of clusters with a page in the middle being a core topic. There are also associated subtopics that are related to the key theme of our keyword breakdown.
These SEO and Google developments bring us to a high level of understanding that our website structure will have a big impact on ranking our topics and keywords.
The look of our website does have a big impact on our overall ranking in search engines. And this is where we build our pillar pages.
Pillar pages are an important part of our website structure. It greatly affects our site's SEO ranking.
What is a Pillar Page?
A pillar page covers all details of the topic on a single page. It is the foundation on which a topic cluster is built. It provides room for in-depth information through a cluster of blog posts linking back to the pillar page.
You can visualize the pillar page as the center or focus of the attention with a series of subtopics created about it.
How Do You Create a Pillar Page?
To create a Pillar Page, you have to choose a broad topic as the main topic you want to rank for. Then, create linked content based on the specific keywords related to the topic to have a broader search engine authority.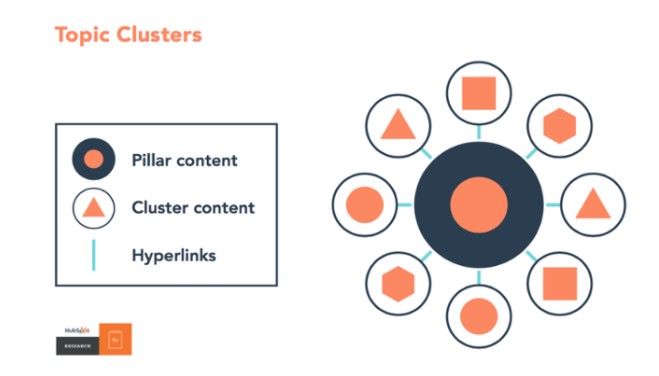 How to Tie Selected Topics to Keywords?
To effectively tie selected topics to keywords, you have to look at the topic from your customer's perspective.
What are your customers looking for? What are their challenges? What are they wanting to have? They might be searching about a subtopic or they might be looking for the pillar page content itself.
But how do you find the right keywords that your potential customers are looking for on the internet? How do you know if there is a good search volume on the topic or keyword? How do you know you are creating the right content for the right audience?
Great Place to Start For Keyword Research: Answer The Public
A really cool place to go on the internet when looking for the right keywords to tie to your topic is the Answer The Public.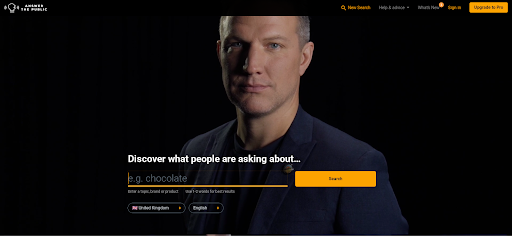 Answer The Public is a free tool that you can use for keyword research. It gives you instant keyword insights that you can use to create fresh, super valuable content that your customers really want.
Normally, its free version does not give you the full breakdown of keyword volumes, that is why you need to pay the actual license fee.
But if you are just starting out with SEO, if you're just a small business, you don't need to pay for it immediately. You can start with the FREE version first and learn about the potential keywords or questions people are searching for on a particular topic.
Basically, what "Answer The Public" does is it takes your topic and it comes up with a series of different results in questions, prepositions, comparisons, alphabetical, and top phrases. It then tries to match them out for you, to give you a breakdown of potential questions that people might actually be searching for.
For Example:
You are trying to look for keywords for "Email Marketing" to build your content.
If you type in "Email Marketing" into the search box on the "Answer The Public" site, you will see a lot of phrases or questions your customers might be asking or needing.
If you click on "data", you will clearly see the keywords you can use for your cluster content creation like "Is email marketing dead" and "is email marketing effective".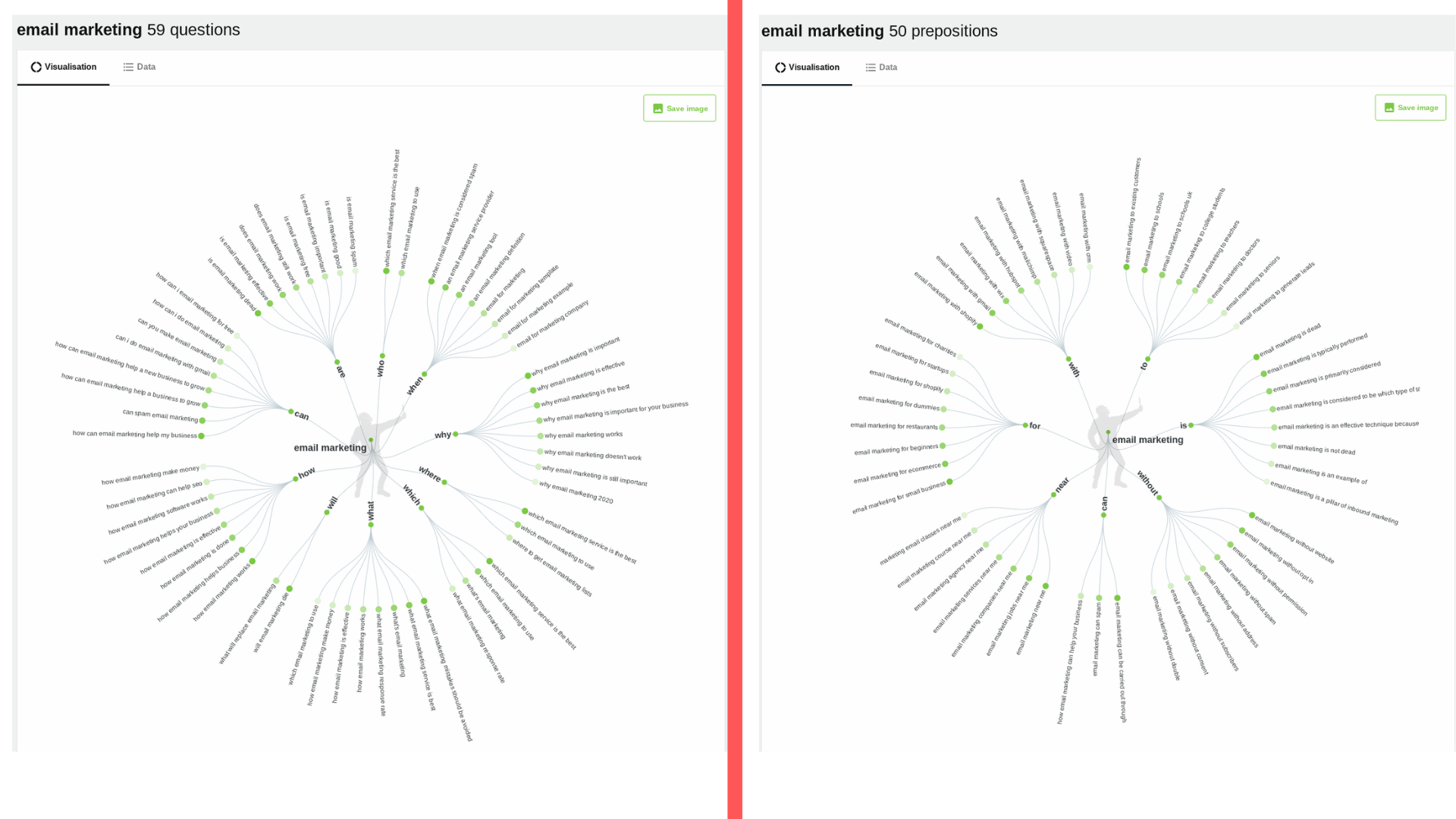 Now, while these keyword suggestions are good, it would be great if you take those phrases you feel your prospects will ask and put them into Google's Keyword Tool. This is to check if there is enough volume for your particular region to make sure you are on the right track, that you are choosing the right keywords, that you are making the right content for your site.
Though there is no guarantee that your potential customers will search for those keywords, the high volume of the keyword will determine that people are really searching for it and that it is a good phrase to write content for.
Conclusion
Pillar Pages are an important factor in improving your site's ranking on search engine results.
By creating interlinked cluster content, you will be able to provide well-organized information to search engines, thereby increasing your chances to be prioritized and served up to the customers' searches.
Join our practice hub and learn more about how to effectively link your keywords to your pillar pages to increase your overall SEO rankings. You can practice in small groups or by yourself, Sign up for our 30-day free trial today.