How To Generate Accounting Leads Using Google Ads Step-by-Step Guide
While at the round-table business event, a senior partner of an accounting firm asked me a common question - whether Google Ads can generate a lot of quality accounting leads for his company?
Using Google Ads to get quality accounting leads is limited because a business does not change their accountant often so is not searching for a new accounting firm often. I did a little research and worldwide there are nearly 10 times more searches for lawyers compared to accountants. This means there will be fewer accounting leads, however, they will be highly qualified because they are needing accountants quickly to help with things like taxation and payroll. Let's look into what is involved and what you can do about generating accounting leads yourself.

Before You Start To Generate Accounting Leads
I have done a lot of the keyword research for you, however, you will need to create the Google campaign yourself, so I have included links to a number of free guides to help you. Below I will show you the steps to build a Google Ads campaign for an accounting firm. But before you begin there is an important term in Google Ads called an "ad group".
In Google Ads, the term "ad group" is a group of 2 to 15 keywords linked to an ad and when a person clicks on the ad they are taken to a web page (also called a landing page) where they can find more details and provide extra information on how to contact you, either by phone or completing a form. This is the lead generation process for accounting leads.
You typically have different ad groups for types of services that you offer your customers, however, your customers will not fully understand all the different services rather they are searching for what they think they are needing. This is why you typically have a different ad group for "accounting firm" and "taxation firm" because they are searching for what they think they need. A good accounting ad will normally include the search term (or keyword) in the ad, making it easy for them to find what they think they are needing.

When they click on the ad, it goes to the landing page to explain more and this is why the web page shows them what they are expecting. For if a person is wanting help with taxation and sees a lot of photos and words of payroll questions, they are going to get confused, leave and go to another website. I call this a wasted click and a waste of your money, simply because the landing page does not match the ad.
This is why it is important to have a landing page for each ad group. Sounds like a lot of work, but it doesn't need to be when you have the right tools like a landing page editor where you clone the landing page, match a few minor changes in less than 10 mins and have a great landing page for each ad group and your new customer.
You're going to have many ad groups and landing pages for your lead campaign. So, instead of changing your website to create all of these different landing pages, I highly recommend that you use a landing page editor to help save you a lot of time.
To help you reduce your time and save on all the labour costs of hiring a digital expert company, I recommend you spend the time following these this guide:
Create Landing Pages Guide - Provide a list of tools and self-pace instructions to create landing pages with no coding and you don't need to change your website. Here I recommend using HubSpot Landing Page Editor and it is free to get started.
As the owner/partner of the accounting company, it makes sense for a junior staff member to manage the lead generation campaign for you. While this is a great idea and will save a lot of time, it is still important for you to learn the basics and guide them on the right keywords and check all the ads.
Select The Best Google Ads Keywords For Your Accounting Firm
As shown in the Google Ads training guide, you will see a keyword planning tool that makes it very easy for you to find keyword phrases that people are using to search for accounting services in your local area. I recommend that you focus on creating 5 ad groups first, because it can become very confusing and overwhelming when you're first starting out. The first 5 ad groups should focus on your main services such as accounting and taxation. You can come back to do your other services, like consulting, business management, later.
Below, I have done the keyword research for you. In the table are the main ad groups for accounting, including the group keywords for you. Please check the volume of the monthly keywords using the Keyword Planning Tool to ensure there are people in your region searching using these words.
As shown in the Google Ads training guide, always use "phrase match"
Ad Group

Keyword Phrases

General Accountant

accountants
accountant companies
accountant consultant
accountant tax consultant
accounting advisory firms
accounting companies
accounting consultant
accounting firm company
accounting firm management
accounting firm services
accounting practice
accounting services
firm accounting
firm in accounting
full service accounting

Tax Accounting

accounting taxation
pro tax
tax accountants
tax accounting
tax advisors
tax advisory firms
tax agent
tax consultants
tax consulting
tax cpa
tax experts
tax firms
tax planning
tax practitioner
tax preparation firms
tax preparers
tax return accountant
tax return cpa
tax return preparer
tax specialist
taxation accountant
taxation consultant
taxation firm

Small Business Accounting

accounting firms for small businesses
cpa for small business
cpa small business
local cpa for small business
small accounting firms
small business accountant
small business accounting
small business cpa firm
small business tax accountant
small business tax consultant
small business tax cpa
small business tax professional
small business tax specialist

Business Accounting

business accountant
business accounting
business advisory accounting
business tax professional

CPA Accounting

business cpa
cpa accountants
cpa accounting
cpa advisory services
cpa and taxes
cpa companies
cpa consult
cpa consultation
cpa consulting
cpa firms
cpa near me
cpa office
cpa services
cpa tax
local cpa
local cpa firms
local cpa for taxes
Normally you should never use a single keyword phrase like "cpa" or "accounting" because these words can have different meanings or intentions. However, for a word like "accountant" this is ok.
Here are optional ad groups that you can choose depending on your services, country and region. Note you can use keywords to focus on sub-groups like international and corporate accounting or you can expand into new services like accounting software or cryptocurrency.
Ad Groups

Keyword Phrases

Corporate Accounting

corporate accountant
corporate accounting firms
corporate cpa
corporate tax accountant
corporate tax preparer
corporate tax specialist
corporation professional tax
professional corporation tax

Audit Accounting

accounting audit firms
accounting firm audit
audit firm
auditing accounting firms
forensic accounting firms

International Accounting

foreign tax accountant
international accountant
international accounting
international accounting firms
international audit firms
international cpa
international tax accountants
international tax consultant
international tax cpa
international tax specialist

Sage Software

sage tax preparer
sage tax pro
sage tax professional
sage accountant
sage accounting firm
sage cloud accountant



Quickbooks Software

quickbooks tax pro
quickbooks accountant
quickbooks accounting firm
quickbooks tax preparer
quickbooks tax professional

Xero Software

Xero accountants
Xero accounting firms
Xero tax preparer
Xero tax pro
Xero tax professional

Crypto Accounting

crypto cpa
crypto tax accountant
crypto tax cpa
crypto tax professional
crypto tax specialist
cryptocurrency cpa
cryptocurrency tax accountant
Remember to add your negative keywords, as explained in the Google Ads Training Guide, and you also add any negative keywords for services you don't offer. For example, if you don't want to be competitive against big firms you can add the negative word "corporate" and this stops your ads from being shown to anyone who uses the word corporate, saving you money on wasted clicks.
Write The Perfect Google Ads For Your Accounting Company
Writing the perfect Google Ad has 3 headlines (30 chars) and 2 description lines (90 chars) and must always include the keyword phrase that the person is searching for in the ad. To get the best results I always suggest you write 3 ad versions for each ad group. This way Google can test each ad version for you and will automatically use the best performing ad for you.
To write your first ad you will need to start by writing 3 headlines, Google joins these headlines together on one line.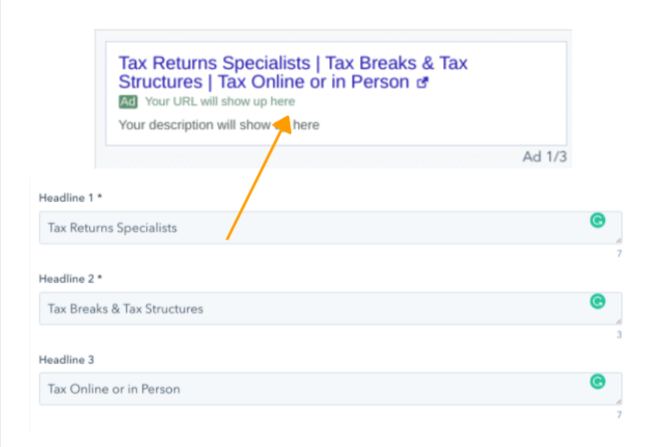 Always use at least 1 keyword phrase in the headline, if possible join the keyword phrases together like "Tax Accountants" and "Tax Specialist".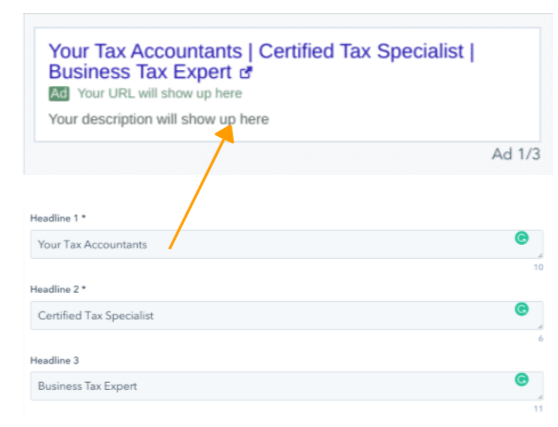 Next, to write the 2 ad descriptions using just 90 characters per description, start by looking at your landing page when a person clicks on it for ideas. This will ensure that your ad matches and uses similar wording as your ad.
Lastly, you are to add the landing page URL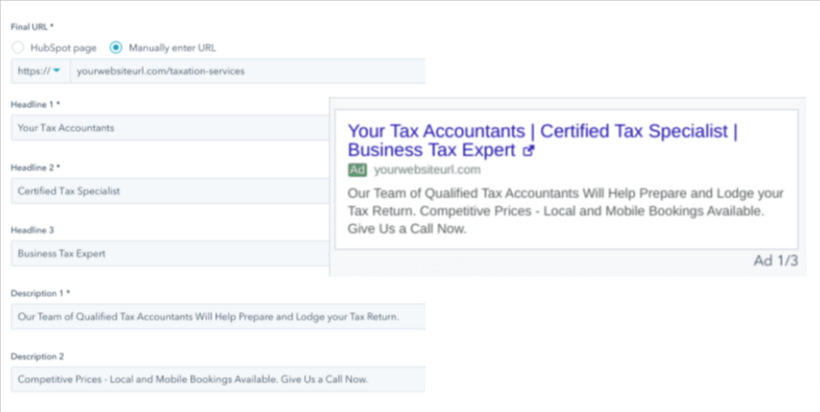 Well done! You have written your first Google Ad. Now write 2 other versions of the ad, this will help with testing by allowing Google to test your different versions to work out which of the ads is the best for your accountancy advertising.
The Right Google Ads Setting For Your Accounting Company
For any Google campaign, there are 4 main settings: Networks, Audience, Language and Budget.
Always select Search Network, do not use the Display Network when using the method that I have listed above. (Search Network will display your ad on Google search page, while Display Network will show your ad on videos like YouTube and on mobile apps.)
Choose the audience location, you can select any country, region, city or subject. You can also type in the postcode or zip code to narrow down where you want to show your ads. Remember to include all suburbs near your location. Remember, the Google Ads Training Guide shows how you can adjust the location in more detail.
Let "English" for language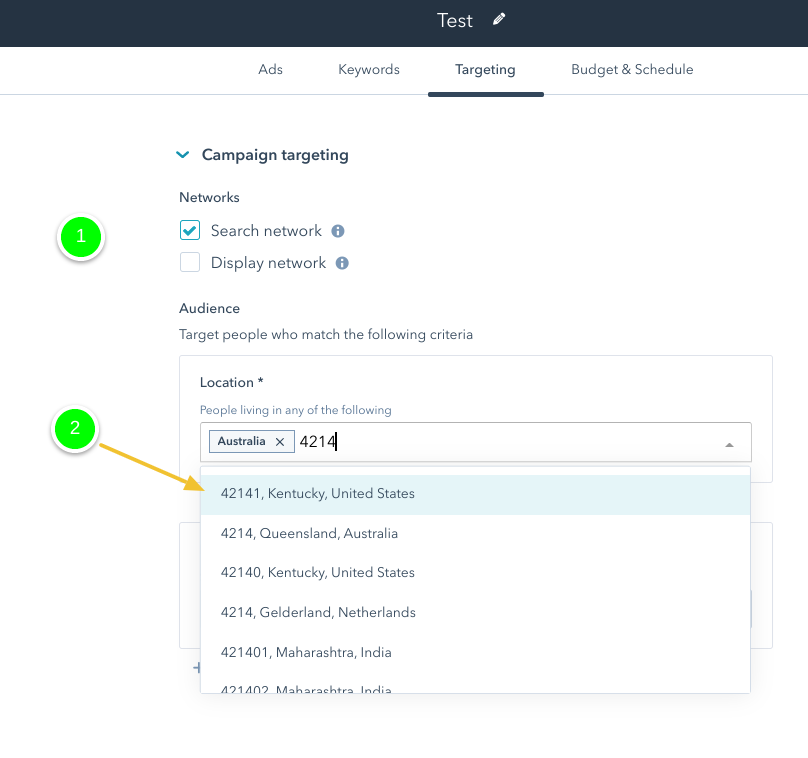 Next, you will want to set the daily budget for your campaign. The goal is to collect enough clicks to test our ads and keyword performance. Here I suggest you set the daily budget to $10 per day, this works out to be $300 per month.
Then select Maximize Clicks.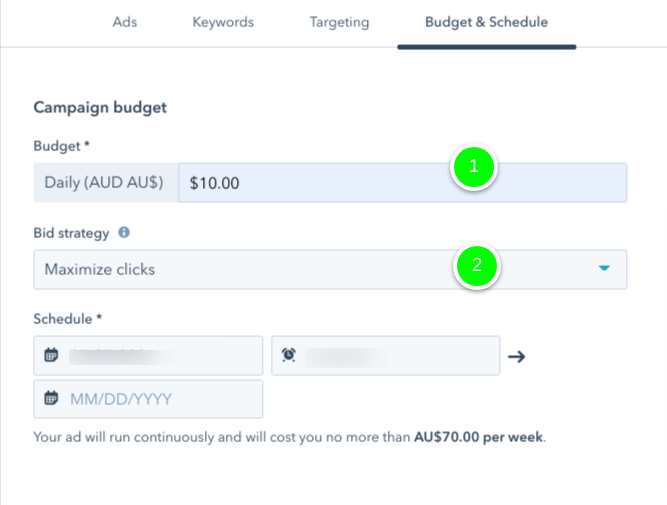 Now you can click finish, and your Google Ads campaign will be created and will start running. Just note, it normally takes about 24 hours before you will start to see any results.
Optimizing Google Ads For Accounting Leads
Optimising Google Ads does not need to be complex if you follow a few rules.
Always review results when you have enough data to review, Google Ads is faster and cheaper to test an idea than if you were to use telemarketing or ask people to do a survey. This way you are testing your campaign and have a higher chance of getting new sales at the same time. So your goal is to wait until you get 100 people to click on your ad.
Just check the campaign 24 hours after you start to make sure your ads were approved by Google.
Each week go into Google Ads and check the number of clicks, when you get at least 100 clicks you use the following to guide you:

If the click-through rate (CTR) is below 2%, you will need to rewrite your ads.
If the click-through rate (CTR) is approx 4% or higher, then you have mastered Google Ads.
There are more tactics you can use to increase your lead generation for accounting leads, so if you would like to learn more about lead generation why not check our Lead Generation Training and coaching course here.